Back on the 15th February, and 13th May, we told you that Pink Floyd were going through their stage props, sitting in storage, to see what is still in reasonable condition.
One of the major pieces that they have sorted out is the legendary mirror ball flower, used for many years in various iterations and configurations as a focal part of the show, during Shine On You Crazy Diamond, but most recently on the 1994 Division Bell tour.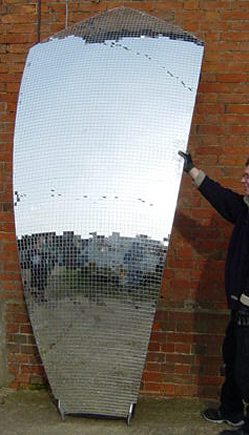 Petal from Pink Floyd mirror ball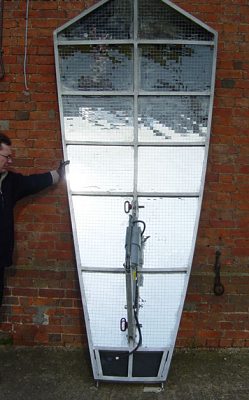 Petal from Pink Floyd mirror ball
Here's how Paula Webb, who has been sorting out the stage stuff (and who also was responsible for the Paris Interstellar exhibition), describes them:
Pink Floyd Division Bell Tour Props

Individual Mirror Ball Petals from the Division Bell Mirrorball

Designed by Mark Fisher and made in California

These incredible petals formed the 6-metre diameter giant mirror ball that rose 18 metres on a retractable tower out of the mixing desk and burst apart, flooding the stadium with spectacular light before the show ended with a fireworks display.

Each mirrorball petal comes with a certificate of authenticity and of course, toured the world!
They aren't the smallest of pieces of memorabilia that you could own... they need two people to lift each petal as they weigh 60 kilos each (9 stone!!). They measure: 2.9 metres high x 1.25 metres wide x 6cm deep with a 36cm arc, and they do look stunning. See the photos here for an idea of what they are like...
Three petals have sold so far, and two more are appearing on eBay this week, so keep an eye out for them. The first of these appeared this evening - item number 7572504140 - and the second will be on eBay tomorrow.
Very nice, unusual items, and genuine bits of Floyd equipment. We've been trying to figure out somewhere to keep one of these at the BD office and am still trying to work out if we can fit it in somewhere!
Our thanks to Paula for her invaluable help and the information.