Early Pink Floyd producer Joe Boyd is putting the finishing touches to his autobiography, looking at his work in the music industry in the sixties.

"White Bicycles: Making Music In The 1960s" is published by Serpent's Tail on 27th May 2006. It covers his work with the Syd Barrett line up of the Floyd, where he worked on their session at Sound Techniques Studios, and on the single release of Arnold Layne.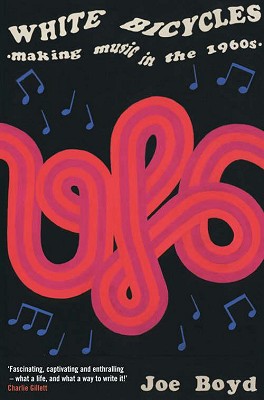 Joe Boyd -
White Bicycles: Making Music In The 1960s
However, Pink Floyd were a small part of his work; other artists he worked with in his roles as record and film producer included Muddy Waters, the Incredible String Band and Richard Thompson. He also founded and was the musical director of the UFO Club in London with John "Hoppy" Hopkins.
The book promises some fascinating insights into his career; he worked at the mighty Elektra Records for some time until he was fired - the label were reluctant to sign Eric Clapton and Pink Floyd, which Boyd thought a mistake.
We should have more information on the book in due course. In the meantime, advance orders for the book, at time of writing at a discount, can be made through the following special links: Amazon UK, Canada, France, or Germany.