Some interesting news for the guitar enthusiasts amongst you... with thanks to the guitar effects expert Pete Cornish, you can watch the construction of David Gilmour's new All Tube Pedalboard as it takes shape in time for his 2006 tour, which begins in just six and a half weeks!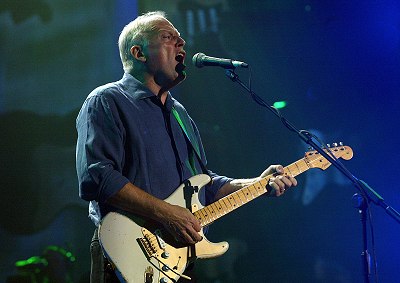 On An Island tour 2006
Pete has provided equipment for David's solo work, and Pink Floyd work too, since 1976/77, when he also supplied a bass effects pedalboard for Roger Waters.

He also provided no less than seven custom pedalboards for The Wall concerts in 1980 and 1981.
The new pedalboard's development is shown in step-by-step detail at www.petecornish.co.uk/bop.html, with the woodworking phase shown over 27 images, and the metalworking/electronics phase of construction over 18 images.

For those interested in how these are constructed, you can see in great detail the amount of work that goes into them, and it gives a good idea of what the final product will look like.
Since 1972, Pete Cornish has created handcrafted guitar effects and amp routing systems for the worlds best known performers, using the best available components.

From effects boards to power distribution units, guitar cables to custom speaker cabinets, Pete has done it all, and his services are always in great demand.
Our thanks to Pete for sparing the time to get back to us, and to Simon Penrose for alerting us to this info in the first place.