Firstly, our hearty best wishes to Pink Floyd drummer Nick Mason, who celebrates his 62nd birthday today. Congratulations Nick - and many happy returns! Nick will no doubt be spending part of his birthday preparing for his trip to Germany, to continue the promotion of his wonderful book "Inside Out - A Personal History Of Pink Floyd".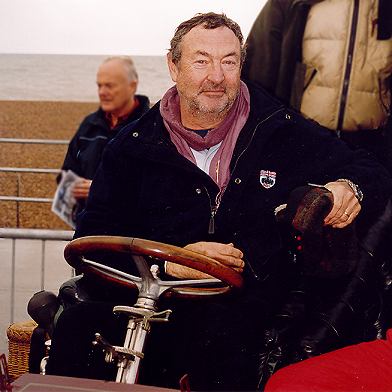 Nick Mason in Brighton © Brain Damage
Nick will be signing copies of his book, as well as all manner of Floyd memorabilia, when he appears at the Buchhandlung Weiland in Hamburg, at 20:45hrs on 30th January, and at the Kulturkaufhaus Dussmann in Berlin the following evening at 18:00hrs.
Previously we reported on his visit to Köln, which was scheduled for 18th March - the same day that David Gilmour plays his solo concert in Frankfurt! We contacted Nick's office about this, to point out the coincidence (after all, a number of you were distraught that both were visiting Germany on the same day, but in different places!).
We are pleased to report that this date now looks to be undergoing revision, and as soon as we know the new date and full venue details, we will pass on the good news. So, hopefully, German fans will be able to see both Nick AND David soon!
Towards the end of last year, we saw the release of the paperback and audiobook versions of Inside Out (reviewed and pictured on Brain Damage, of course!).

The audiobook, narrated by Nick himself (and recorded in one, presumably very tiring, day!) brings us right up to date with Nick's personal view of the band's reunion with Roger Waters for Live8.

The whole package comes as 3 CDs, with a 32-page booklet of photographs, in a special collector's pack, priced at £15.99.
The paperback of Inside Out is also updated with Nick's Live8 recollections, and is in stores now. The addition of the Live8 reunion section will make both items very tempting propositions, even if the original book is already owned.
Online orders for the paperback book are being taken now by Amazon UK, Amazon Canada, Amazon France, and Amazon Germany.
With regard to the audiobook, this is available from Amazon UK, Amazon Canada, Amazon Germany, and Amazon France. Any items ordered from Amazon after entering their site from one of our special links, helps towards running costs of our site, and we appreciate it!