A fascinating new interview in well-respected Italian newspaper La Repubblica has David Gilmour talking bluntly about the rumoured future of Pink Floyd. "The band? It's over. Reunited because of the good cause, to get over the bad relationship, and not to have regrets".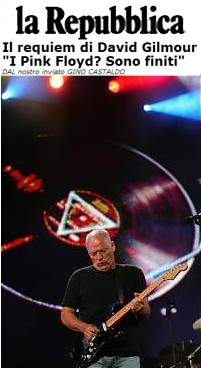 La Repubblica
The interview, kindly translated here for us by cambridgiano, probes David about the Floyd, and also his forthcoming solo album On An Island. The newspaper is not known for embellishing, and so David's reported comments have added weight. Whilst his comments will make many fans sad, the remarks are not overly surprising. At the very least the band is retiring gracefully, and on a high from the July 2005 Live 8 appearance.
David told them: "I think I've had enough. I am 60. I don't want to work much anymore. It's an important part of my life, I have had enormous satisfactions, but now it's enough. It's much more comfortable to work on my own". And we are not talking about the reunion with Roger Waters, already considered improbable ("Roger has worked in an absolutely autocratic way in the last 20 years; he would find difficulty in being part of a democratic band"), but about the Pink Floyd trademark itself, belonging to Gilmour, Richard Wright and Nick Mason after several legal actions. They recorded two albums and played live in incredible gigs all over the world. "It's over" specifies Gilmour.
"The issue about Roger is irrelevant, because even without him I don't want to go on as Pink Floyd. I'm happy with my life. Playing as Pink Floyd is a business too big for me now. When you move as a band, all is gigantic, the expectations are enormous, the pressures very high. We have been asked to play one hundred gigs! I am fine as I live now. It was fantastic but now I don't feel like any more."
The interview then turns more towards his forthcoming solo album, On An Island, released on March 6th.
Is it a coincidence that the album will be released very close to your 60th birthday?
No, it's not a coincidence. It's a choice.
Many people will find it difficult to distinguish from a Pink Floyd album...
I can't understand the difference very much! It's not important. In fact, I am the voice and the guitar of Pink Floyd. It's natural that part of my album sounds like Pink Floyd's. The difference is clear only in my head... Anyway, although I always felt free within the band, that was a group work. This one is more intimate, personal. I recorded most of it at home. I played many instruments, including saxophone.
What does the album title refer to?
The island is not Lindos, where I own a house. It's a Greek island called Castellorizo, like the first track in the album, 3 miles from the Turkish coast, where the Italian film Mediterraneo was shot. There is a song called On An Island too, it's about an evening spent with friends on that island.
It's a strange island. Until the 1920s the coast opposite belonged to Greece. Now it's Turkish; the island is almost deserted, many people have left, it's like a ghost island. The track is about leaving, abandonment, and then the phrase born on an island, very important for an Englishman...
There's a sensitive passion in this record. A simple beauty..
I hope... I hope the music is simpler but it can mean more. There are echoes in this simplicity. After all, when you write you try to compose just simple songs, but then other, deeper meanings and complications arrive. My wife Polly wrote a lot of the lyrics in the album.
Isn't it complicated to work with your wife?
I find it very natural at this stage of my life. Of course there are several problems, but the advantages are much greater! She wrote some songs by herself, like The Blue - that is perfect, the music and lyrics seem to be born together. Sometimes she is inspired by my music, sometimes she tries to come into my head and see with my eyes in order to understand what I was trying to say.
Why have you waited 20 years for a new solo album?
Well, I have been very busy. Two albums with Pink Floyd, and I felt free to do what I wanted to do, without restrictions. Then I got married again, new babies, I don't want to work much now, I am not an ambitious person anymore.
You played with Crosby & Nash. Was it the first time you worked with them? Were you friends?
I've known Graham Nash since he was in the Hollies, and through him I met Crosby. Two fantastic guys. They played in London in June, I went to say hello backstage and asked them to sing on my album. They said yes immediately, and I recorded their voices two days later.
Talking again about Pink Floyd, why the reunion at Live8?
For many reasons. Firstly because of the cause, obviously. Secondly because Roger and I had had a very bad relationship and this was something very bad to have in your heart. And finally because if I hadn't done it, I would have had regrets forever!
It was a good signal. How did you live that moment?
Actually I had very difficult guitar parts and then I had to sing. I felt a very big responsibility; I spent three weeks training myself and I was very concentrated on what I had to do. I felt the incredible emotions only when we finished playing.
And then Syd Barrett, the "crazy diamond", Pink Floyd founder. When the band was recording Wish You Were Here, he appeared at Abbey Road. Mr Gilmour, is that story true?
Yes, absolutely. I don't remember which song we were recording, I don't remember which one recognized him first, and I don't remember what we talked about. But it's absolutely true. Syd appeared in a moment!
Have you ever seen him, after that day?
No, never.
How's is it possible? Haven't you ever wanted to go to Cambridge to visit him?
Yes, I would have, but his family think Syd has to stay alone. But maybe in the future...
How would you like people to react to your new album?
I'd like that everyone feels like being in a different world where only the music exists. I wouldn't like that people listen to the surface only but that they listen deeply. I'll be happy if my music were important, at least during the minutes you're listening to the album...
---
Our thanks to cambridgiano, Riccardo Fiandra, Massimiliano Mascolo, Massimo Varrone and Luca for their help with this story.