The latest issue of the UK's Record Collector magazine has a large Pink Floyd and Harvest Records feature, as well as showing the band draped in pink cloth on the cover. The magazine, which hits UK shelves on 16th February (and available in selected outlets worldwide as an import), has a huge overview of the history, and the best releases, of the legendary Harvest label.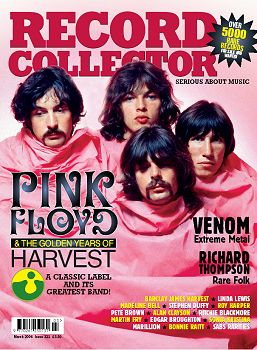 Record Collector, March 2006
Harvest was an EMI imprint, which was established and run by Malcolm Jones in 1969, and a number of Pink Floyd and Syd Barrett releases appeared on the label - a major part of the article.
Harvest focused its efforts on some of the best psychedelic and progressive artists of the time, making many of its releases highly desirable now.
Alongside this article, is a large feature on the top 50 collectable Floyd singles, compiled by our good friend, and renowned singles collector and expert, Hervé Denoyelle.

The top ten include some achingly rare singles, some of which were pressed in minute quantities - with just one or two known to have ever existed! A fascinating, mouthwatering read...
Other artists covered in the magazine include Richard Thompson, Marillion, Roy Harper, and Barclay James Harvest.
Our thanks to Jason Draper, Production Editor at Record Collector for getting in touch with this news.