Nick Mason visits Bulgaria
Written by Matt
Monday, 06 February 2006
Yesterday, Nick Mason literally made a flying visit to Sofia in Bulgaria, to promote the latest translation of his book "Inside Out - A Personal History of Pink Floyd".

Having flown in earlier the same day, he presented his book personally to the enthusiastic local audience, and told the assembled Bulgarian media that "It's a pity that I only came here as a writer and not as a drummer!"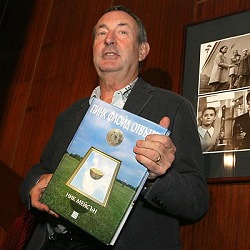 Nick Mason in Bulgaria
(pic: Sofia News Agency)
The Sofia News Agency reported that he talked about the creation of the book, which started whilst the band were on their Division Bell tour of 1994.

"I've simply tried to capture the elements that I think give a picture of what I thought was happening at any one time, and to try to be honest about both the triumphs and the complete shambles that make up a band's existence," Mason said about his writing.
We apologise for the lack of advance notice of this - and we're just waiting to hear if Nick is planning any other upcoming visits to promote his book. We'll let you know as soon as we hear anything!