Fans of Roger Waters should head for Bela Vista Park in the heart of Lisbon, Portugal, where the musician will be playing his first live concert since the Live 8 reunion with his old bandmates, Pink Floyd.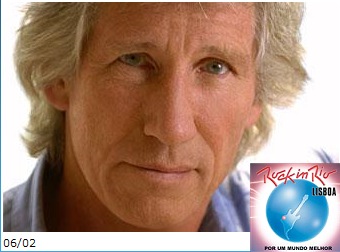 Roger Waters, appearing at Rock In Rio-Lisboa
The concert, on June 2nd, is part of the Rock In Rio 2006 Festival - the largest music event in the world. Roger has visited Portugal before, playing his "In The Flesh" show there in 2002.

As in the previous editions, the organization behind the festival will donate part of the revenues to several charities.

Apart from Roger, some of the most notable names in the Portuguese and International music scene will be present during the five days of the festival. Attendance is expected to be more than 500,000 people, with about 100,000 people every day on average.
Tickets are not yet on sale, although if you are not able to make it over to Portugal for the concert, all is not lost.
Network LIVE, a joint venture between AOL, XM Satellite Radio and AEG, announced recently that the company has secured exclusive rights for Rock in Rio, the world's largest multi-day music event. The agreement provides Network LIVE with the exclusive US and international sales and rights for all broadcast and media partners, outside of Portugal and Brazil.

This will be the first year that Rock in Rio will also be made available for licensing to all broadcast distribution platforms including (where applicable) Internet, wireless/mobile, satellite and terrestrial radio and television, and on a global basis. So, Roger's fans across the world will hopefully be able to tune in to the show.
All the information you might need about Rock in Rio-Lisboa can be found at the official website at rockinrio-lisboa.sapo.pt.
Our thanks to José Mendes, Nuno Miguel Gil Fonseca, and Carlos Sardinha for their help in bringing this story to you.