The respected writer Jeff Touzeau, who recently interviewed Nick Mason for the magazine TapeOp, and earlier, for the same publication, interviewed David Gilmour's guitar technician Phil Taylor about the houseboat studio Astoria (where the last couple of Pink Floyd albums were recorded), has been busy again.
First off, he has written an indepth article covering the production process of Roger Waters' recently released opera, Ca Ira, for the March 2006 issue of the US magazine EQ.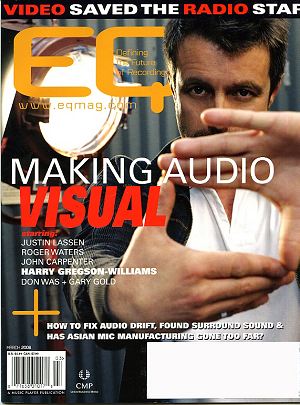 EQ, March 2006
This is currently in US stores, and may be available in a limited number of other countries as an import. Alternatively, you can contact their back issue department via This e-mail address is being protected from spam bots, you need JavaScript enabled to view it .
Not content with writing absorbing articles for magazines, Jeff has finished his full colour, hardbacked book called "Making Tracks: Unique Recording Studio Environments" that is endorsed by Nick Mason! More details can be found at studioenvironments.com and the book features a piece on Miraval, where Pink Floyd recorded some of The Wall overdubs with Patrice Quef (engineer).
"Making Tracks" is a 208 page coffee table style book that highlights eighteen one of a kind recording studios. There are multi-million dollar facilities spread across many acres of land, and there are smaller, more esoteric facilties in urban surroundings. The structures themselves are converted barns, sawmills, firehouses, churches and underground bunkers. The locations are on beaches, islands, farms, vineyards and rivers.
Interestingly, while all these elements provide compelling backdrops for each studio, the really interesting part is the people behind them. They include original Beach Boy Al Jardine, renowned engineer Patrice Quef (Pink Floyd's aforementioned The Wall, The Cure, etc.), Terry Manning, Will Ackerman, and so many others.
Suffice it to say that the credits of everyone in this book cover every conceivable genre and era of recording, on both small and grand scales. The book is in interview format, and each section is woven with stunning photographs of both the environment and the facilities. In the interviews, Jeff Touzeau captures the passion and unique stories behind each person and facility. The combination of all these things amount to a compelling read, and something that has never been done before...
This book can be ordered through the following special links, some with a discount on the normal price: Amazon US/International, Canada, UK/Europe, France, or Germany. Any item bought through these links at Amazon (not just Floyd items) helps with the running costs of the site, and we really appreciate it.
Our thanks to Jeff for getting in touch, and for his help.