A bit of advance notice for you - on Thursday, 2nd March, BBC Radio 4's "Front Row" programme features an interview with David Gilmour about his forthcoming album, "On An Island" which is released on 6th March.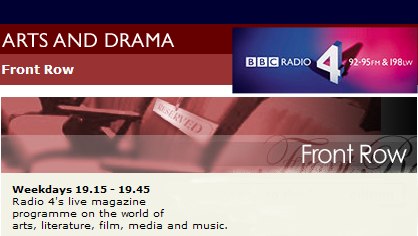 BBC's Front Row
The programme takes a look at his new work, and his past work with Pink Floyd, courtesy of interviewer John Wilson.
It is scheduled to start at 7:15pm GMT. BBC Radio 4 can be heard on FM and DAB radio, digital cable, satellite and freeview, and via the BBC website where they have the excellent "Listen Live" and "Listen Again" facilities, allowing you to hear the broadcasts for up to seven days following transmission.
Elsewhere on the airwaves, BBC World's White Label programme have reviewed On An Island. They played an excerpt from Money, and from the album, they played On An Island, Take A Breath and Pocketful Of Stones. You can listen to the programme through this link but be aware that it will change at 9:32am GMT on Tuesday - so be quick!
Our thanks to David Haddock for the Front Row news, and to Nawaz Ali Hajiani from the FloydArtifacts discussion group for the White Label news.