On Thursday (February 16th), David Gilmour's forthcoming album "On An Island" was the subject of a listening party held in Hollywood, and our friend Tom Quinn was fortunate enough to win a ticket to be there. Here's his report on the evening, and his initial thoughts on the album itself...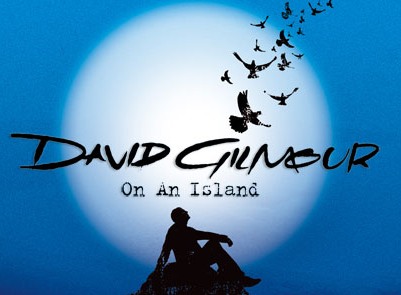 On An Island artwork
It was a Hollywood premiere alright! About 60 of us lined up on a clear, chilly night in front of "Plush at The Key Club" on Sunset Boulevard in West Hollywood, California.

It was an invitation-only bash sponsored by Sony BMG, Columbia Records and legendary radio station KLOS 95.5 FM in Los Angeles.

Of note, KLOS disc jockeys Jim Ladd and Cynthia Fox performed master of ceremonies duties for the infamous Wall shows at The Los Angeles Sports Arena shows from Feb 7-13, 1980. 19 days before the release date, and here we were ready to take in never before heard Gilmour magic!!
We were ushered into the dark, exotic, comfy confines of this exclusive lounge where we were each handed a printout of the albums artwork, which included all the inserts, lyrics, and credits. The album was continually "looped" over the casual 2 hour get together, and played about two and a half times through. (Since the rules of math still apply, that means the album is about 50 minutes long – short, but then it only took "The Dark Side of The Moon" 43 minutes to change our lives forever!)
There was a brief, three minute greeting, from representatives from each of the sponsors, and then we were left alone to our own devices. Complementary adult beverages and scrumptious appetizers were everywhere in this very dark and atmospheric listening room. We utilized our flashlights non-stop to follow through the liner notes as best we could.
Upon the conclusion of the presentation, we were all thrilled to receive a copy of a limited edition lithograph of the new album's artwork (out of 4000 prints!), and a David Gilmour "On An Island" official tour hat!
I tried to remember David's exhortations to his fans - to "listen deeply" to his new album. This was a thrilling night, yes (!), but not a great environment for following those instructions!
"Still, marooned, silence drifting through, nowhere to chose, just blue", and "Ceaselessly Star-crossed you and me" – lyrics, and music (!) from wife Polly Sampson in the song "The Blue". This was the first song we heard upon entering the room. The album played on into the evening - with lush, sumptuous production throughout. Polly's lyrics dominate the emotional tone of the album, with David's stamp of approval.
Children dancing together, wild horses and flocks of birds roaming free, backlit silhouettes of David and Polly walking into a leaf covered path into the woods – this is one contented rocker!!
David's debut on the saxophone, "Red Sky at Night", is encased in this huge orchestral backdrop - which is a type of "Let's Get Metaphysical" on sax. "This Heaven" is a rockin' bluesy track that sounds straight out of a Chicago blues bar, save for the "talk box" guitar insert.
"Then I Close My Eyes" opens with an unexpected bluegrass-like instrumental, featuring David on the "cumbus", a 6 stringed, fretless, banjo-like Turkish instrument. With all of the variety of styles presented in the ten song record, it's a miracle that it all "hangs together" the way it does.
Special credit here goes to the great production team - the capable hands and studio ears of David, long time associate Chris Thomas (supervised the DSOM mix), and Phil Manzanera, long time friend and great guitarist from Roxy Music.
Both the "On An Island" title track and "Smile" are obvious standouts. David's long celebrated magic fingers, melodic sensibilities, and incredible guitar tones are everywhere as expected. No question, he's incredibly happy with himself and this record! If you're looking for a tortured artist full of piss and vinegar, you're going to have to look a little farther back into the Pink Floyd catalog.
Gilmour idolaters (you know who you are!), brace yourselves, and get ready to lose yourselves into another great album and inspired tour, by the best (and happiest) rock guitarist on the planet!
---
Our thanks to Tom for his report. Tom lives in San Diego, is the lead guitarist and vocalist for tribute band Pink Froyd, and for the last 14 years also performed the same duties for classic rock group Street Heart.
If you wish to order the album from Amazon, for delivery upon release, you can do so through these special links: US/International, UK/Europe, Canada, France or Germany.
We know that a number of you will also want to buy the vinyl edition (or indeed, instead of the CD version!). Here's the links you need for this edition, which will be in a specially designed gatefold sleeve: Amazon UK, France, or Germany.