This afternoon, yet another of Roger Waters summer concerts was announced. The latest show to be added to his schedule is the Marquee Festival in Cork, Ireland, on June 29th.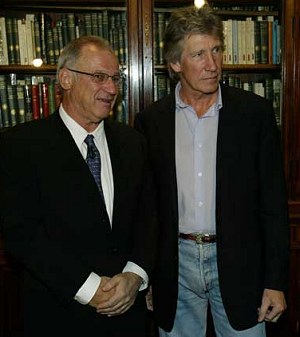 Roger Waters at Magny-Cours with
FFSA President Jacques Regis
Tickets for the event go on sale this coming Friday, March 3rd. More details on this show, including how to get tickets, can be found on our dedicated Cork page. Talking of tickets, the Rome show went on sale today!
We've also got more news for you on the press conference that Roger participated in, yesterday, with plenty of additional information that Roger revealed. The press conference was part of the launch in Paris for the 2006 French Grand Prix, and was webcast. Unfortunately, a reasonable chunk of the press conference didn't appear on the live broadcast, and only became visible later in the day when it became available for on-demand streaming.
You should be able to view the whole press conference using this special link. Roger appears part way through the event, and talks at length about his tour, his music, and motor racing. Of particular interest were some of the remarks made about the tour - he confirmed that it should be 17 dates, and talked of the Locarno show to be held on July 16th, and of an Istambul show (neither of which are confirmed yet).
For the tour, he revealed that he came up with a set list of some 15-16 songs on Sunday, February 26th, and said that hopefully there would be four songs that he hadn't performed live before - two old Floyd songs, and two new songs.
As the press conference was held in France, the conversation naturally turned to Ca Ira. Of particular note were his plans for the future of the piece. He also confirmed that there would be a full production in Poznan, Poland on July 6th and 7th ("that's definite").
Obviously as we get more details on all these shows, we will let you know! Our thanks to Ronan Casey, Jasper WIllemsen, and Sara, for their help.
---
As with the upcoming David Gilmour shows, we want to give Roger's shows comprehensive coverage. We'd love to see your comments about the shows, and any ticket scans, pictures, reviews, set lists, newspaper reports, concert adverts, interviews, audio, video, or anything else you come across. We're currently setting up a page for each show's goodies and practical information, accessed via the Roger Waters 2006 Tour page, so keep checking back. Please get in touch if you can help, too!