Tuesday saw an unexpected surprise for US fans when they went to their local Best Buy to pick up David Gilmour's great new album, On An Island.
As an exclusive, limited edition for that chain of stores, a bonus CD was included featuring the track "Island Jam", that was available for download around Christmas-time from DavidGilmour.com.
These have naturally sold incredibly fast, despite most people being unaware of this edition until now.

Basically, this is how it is/was presented in those stores.

They took the regular package and with some of that glue like plastic (the kind that keeps the CD on the MOJO cover) affixed a single disc slip cover on top, then wrapped/sealed the two as one.

This slip cover has the same artwork as the regular package, so there isn't anything amiss if you just glanced it over.
However, the sticker that says "David Gilmour On An Island The New Studio Album....." is on the top/outside, and there is an additional sticker (in the same typeface and color) "Best Buy Exclusive! Free Bonus CD Includes Rare Non-Album Track "Island Jam".

On the back, there is another barcode sticker above the one on the regular packaging. This is a different barcode, (probably to differentiate the sales for Best Buy).
So, you remove one layer of wrap to get to the bonus disc.

The bonus disc is also sealed, and the regular package is still sealed and still has it's top spine sticker.


Here's what the bonus disc looks like...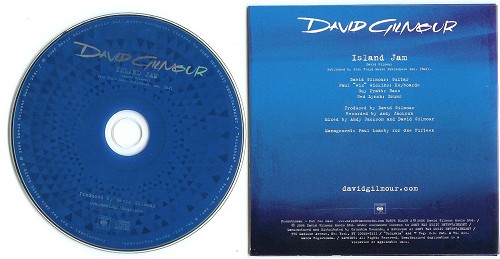 We're not sure how many Best Buy stores in the US still have copies for sale, or if they will be getting more supplies. Best Buy don't sell via mail order outside the US, but for those who want to snap up this edition, loads are starting to appear on eBay (surprise surprise!).
Our thanks to all those who wrote in with information, with particular thanks to Ray Vawter, Nick Urmston, and Christopher Kluttz.