The Gerald Scarfe-designed poster for the movie of Pink Floyd's The Wall has become an iconic image, calling to mind Munch's "The Scream". Last month we brought you news of a very special, limited offer of a signed DVD or poster of Pink Floyd's The Wall movie, thanks to those nice people over at Bob Geldof's official website.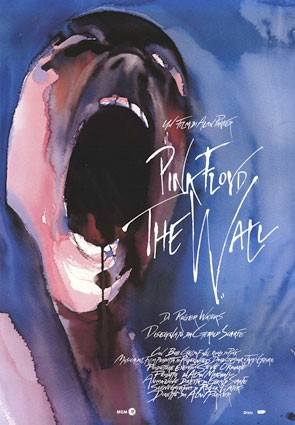 The Wall movie poste
They have created a special edition of just 500 copies of the poster, each of which individually signed by the architect of Live 8, and the star of the film (playing the "Pink" character), Bob Geldof himself.

Due to the popularity of this offer, they have also arranged for Bob to sign 500 copies of the DVD of the movie. And, thanks to the generosity of a Brain Damage regular, we have one of these posters to give away!
For your chance to own a piece of movie, rock, Pink Floyd and Bob Geldof history, you needed to answer the following questions correctly:
Who sings the very first song played in the movie? VERA LYNN ("The Little Boy That Santa Claus Forgot")

Which song (or songs) from the original album was not included in the movie? HEY YOU and EMPTY SPACES

Where was Bob Geldof when he was offered the part of "Pink" in the film - where he famously slated the music of Pink Floyd? IN A TAXI DRIVEN BY ROGER WATERS' BROTHER!
Once you have the answers, send them via this email link, ensuring that your entry has the subject line of "Wall poster", along with your full mailing address. Entries were accepted until midnight GMT on April 25th, with the winner being picked from all the qualifying entries on April 26th.
Please note: All entries will be automatically diverted into a special folder, and no correspondence will be entered into. We will not acknowledge entries either. Only ONE entry per person permitted.
The very best of luck to you all... and our thanks to Ben for his generosity!
COMPETITION NOW CLOSED, and the winner is...FRANZ SVODOBA, from the USA. Our commisserations to all those who weren't lucky this time, and watch out for our next great giveaway in the next day or two...