With the UK leg of David Gilmour's On An Island tour just a week and a half away, Guy Pratt, who very ably takes care of bass duties in the band (and on the album), has been keeping himself busy with more solo shows.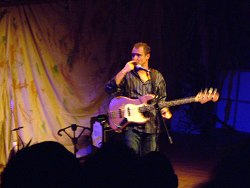 He is currently in the midst of additional dates of his one-man show, "My Bass And Other Animals", which includes newly added material from the current Gilmour tour. The show looks at his long career in music, playing with such luminaries as Michael Jackson, Madonna, and Pink Floyd from 1987 onwards, and has had some excellent reviews.
We were in contact with Guy last night, and have some bad news for all of you intending to see him in Brighton this coming Sunday. Due to problems with the booking, the show, part of Chris Difford's songwriting festival, has been cancelled. The good news is that Guy is determined to perform his show in the city, and as soon as we have the revised date we will let you know. From the emails we've had, we know that quite a few of you had been looking forward to this show.
Here's the current schedule showing where you CAN catch him in the coming months:

Tickets are available from the venues and normal agents.
Guy brings to vivid life some of the absurdities of life on the road, and the absurd characters, too. An excellent way to spend an evening! I saw his show in London, and really enjoyed the wide spectrum of characters covered in the show. The Floyd content was excellent, but then so were his anecdotes about the many other top artists he has worked with, too. We're really pleased that Guy has announced more shows... it's not to be missed, and we urge you to go, if you can...