With Pink Floyd's much delayed, and heavily anticipated, PULSE DVD just about three weeks away, news reached us today of a special EMI device that will let you have a sneak preview of a few bits that the 2 disc set has to offer.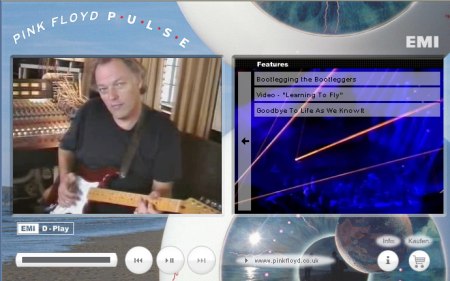 Pink Floyd PULSE preview player
If you go to the German d-play.de site, the PULSE player gives you snippets from the main feature - the concert itself - and from some of the extras that have been crammed onto the disc, which is out in the stores on July 10th (UK/Europe), July 11th (USA/Canada), and elsewhere with some minor variations to this date, as shown below.
From the concert, there are segments of High Hopes, Keep Talking, ABITW, Money, and Comfortably Numb. Turning to the extras, you get a chunk of the Learning To Fly promo video, What Do You Want From Me taken from the "Bootlegging The Bootleggers" section, and an interesting snippet of Nick getting a little frustrated aboard the Astoria when contractual or release obligations are being promoted over any musical considerations. This is taken from the "Say Goodbye To Life As We Know It" documentary. All the clips in the player run for around a minute or so.
It's interesting to see how good the "Bootlegging..." and "Say Goodbye..." features look - and bodes well for the release in general.
Our thanks to José Abellán over at the Animals PF Magazine for this info!
As to what is included in the final confirmed version, the detail is in our news report of June 1st which has the full tracklisting and extras detail.
Here's the full rundown of when to expect the DVD, depending on your country of residence:
July 7th - Austria, Germany, Holland, Ireland, Italy, Switzerland (all EMI)

July 10th - UK and rest of Europe (EMI), South Africa (Sony), Israel (Sony) and Brazil (Sony)

July 11th - USA, Canada, Australia, New Zealand (all Sony), Japan (on Sony import)

July 14th - Mexico (Sony)
Our thanks to Pink Floyd Management for this useful breakdown by region.
PULSE can be ordered, with a discount, through the following special links, for delivery upon release: Amazon US/International, Canada, UK/Europe, France, or Germany. Any item bought through these links at Amazon (not just Floyd items) helps with the running costs of the site, and we really appreciate it.