It was with much sadness that we brought you the news yesterday that Roger Keith "Syd" Barrett, founding member of Pink Floyd, has passed away, leaving us on Friday, July 7th. Tributes to the man have been flooding in following the announcement yesterday afternoon.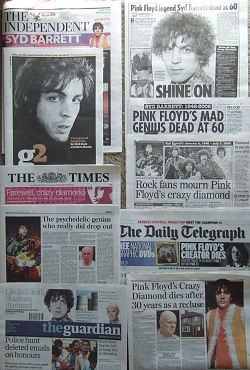 A selection of UK newspaper
tributes and headlines
A statement from Pink Floyd said: "The band are naturally very upset and sad to learn of Syd Barrett's death. Syd was the guiding light of the early band line-up and leaves a legacy which continues to inspire."
Roger Waters added, "It's very sad. Syd was a lovely guy and a unique talent. He leaves behind a body of work that is both very touching and very deep and which will shine on forever."
David Bowie, who covered Syd's "See Emily Play" on his Pin-Ups album, described Barrett as a "major inspiration", saying: "I can't tell you how sad I feel. The few times I saw him perform in London at UFO and the Marquee clubs during the '60s will forever be etched in my mind. He was so charismatic and such a startlingly original songwriter. Also, along with Anthony Newley, he was the first guy I'd heard to sing pop or rock with a British accent.
"His impact on my thinking was enormous. A major regret is that I never got to know him. A diamond indeed."
Former Blur guitarist Graham Coxon released a statement saying: "Lost him again... for bang on 20 years Syd led me to better places. From my agape 17-year-old first listen to Bike to, just the other day, Jugband Blues. Languished in his noise... dreamt in his night... stared at his eyes for answers..."
Barrett biographer Tim Willis to BBC Radio Five Live, "I don't think we would have the David Bowie we have today if it wasn't for Syd. Bowie was very much a kind of clone of Syd in the early years. His influence is still going. New bands discover him all the time. There's always a Syd revival going on - if it wasn't the punks, it was REM, and I'm sure that Arnold Layne and Emily Play as pop songs will live forever."
Indeed, the NME had comments from a number of young musicians, including Elbow's Guy Garvey, who cited Barrett as a huge influence on his career, and revealed: "Bizarrely enough, Jimi Goodwin (Doves) gave me a Syd Barrett record for Christmas. I wonder what music would be like if he'd never lived."
Steve 'Chadrasonic' Savale from Asian Dub Foundation also told NME.COM: "I play the way I do because of Syd. May he rest in peace."
The first of the musical tributes happened last night, at the Red Hot Chili Peppers concert at the MEN Arena, in Manchester. The band opened with Interstellar Overdrive, and later in the set, John Frusciante played Golden Hair on his guitar. At the end of it, he said "Long Live Syd".
---
We have had many emails from fans wishing to mark their own respects to Barrett, and to share their thoughts and prayers.
We have therefore set up an online "Book Of Condolence" in response to this - and if you wish to add your comments, or read those of others, click here to visit it.