The September 2006 issue of the UK's Uncut Magazine is a special tribute to Syd Barrett, who sadly passed away on July 7th.
The founder of Pink Floyd is featured on a thirteen page spread inside, with a large selection of pictures from his friend Mick Rock and others, alongside a celebration of his life and music from those who knew, loved and were inspired by him.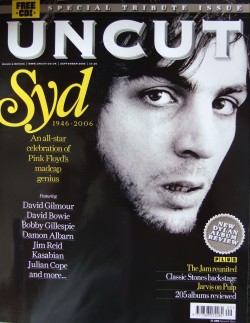 Uncut, September 2006
The main focus is an indepth look at Barrett and his life, written by David Cavanagh. An intelligent and searching article, it draws on numerous sources from over the years to investigate the man and the myth. Posing more questions than it answers, Cavanagh provides a diverting read.
Elsewhere, photographer Mick Rock recalls his friendship with Syd, referring to him as "a bizarre and beautiful man", and gives some intimate insights into Barrett. He also recalls the 1971 Melody Maker interview, which was to be Syd's last, and which is also included in Uncut.
Breakout boxes offer tributes to him from the likes of David Bowie, producer Joe Boyd, early managers Peter Jenner and Andrew King, Blur's Damon Albarn, and Ray Davies from The Kinks.
The magazine is available from today from UK newsagents, and is available in selected countries as an import. It can also be bought mail-order through www.mags-uk.com/ipc. More details of the magazine itself, and further tributes to Syd, can be found over at the magazine's website - www.uncut.co.uk.