Pink Floyd's drummer Nick Mason got a taste of A1 Grand Prix power when he drove the car at the Snetterton race circuit in Norfolk, England, this week and pronounced he was there to have fun. Although he also said he was going to be cautious, these days he is 'almost' as famous for his car racing exploits as his music!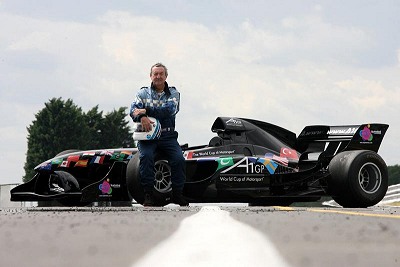 Nick Mason with A1GP car
(picture © A1GP.com)
As most of us know, Nick owns some very special machinery, including his Ferrari 250 GTO, but was still impressed with the A1GP car and it could even be claimed that the series had drummed up his enthusiasm. "It is a very sophisticated piece of kit. What is really impressive with these cars is the braking and grip, and the engine pulls very well over a wide rev range," he said.
The A1 motor racing series, which bills itself as the "World Cup Of Motorsport" recently set itself up as an alternative to the established Formula 1 series. One of the differences between them is that different countries compete against each other, rather than rival car manufacturers.
Nick was at Snetterton as a special guest to help promote the forthcoming Sky Festival (11th – 13th August), which the series will be part of with six cars driving through the streets of central Manchester over a 1.5km course. After getting out of the car he spoke to Bob McKenzie from the Daily Express newspaper who came up with some great Pink Floyd related clichés such as Dark Side of the Zoom, Skid on You Crazy Diamond and Another Nick in the Wall.
The cars can be seen at the Sky Festival from 2-3pm on Sunday 13th August – the third and final day of the festival. A dedicated interactive A1GP paddock area, located in Exchange Square, will also be open to the public on Friday and Saturday from 10am-8pm and on Sunday from 10am-12pm and 3.30pm-7pm, offering people the chance to get up close to the cars and drivers taking part, and even take on the role of an A1GP mechanic in a tyre-changing competition!
Sky Festival will bring 36 specially created events for people of all ages and interests to some of Manchester's most famous landmarks. All events are free, although some events are ticketed. For more information visit www.skyfestival.co.uk.