As a very special treat for Brain Damage visitors, we've got a web exclusive of the two Floydian features that have just come out this week in TPi's Summer 2006 issue.
TPi - Total Production International - looks at live event design and technology, and is always a fascinating look at the cutting edge of concerts and other productions. Aimed at those within the music and production industry, it gives one a fresh perspective on the mind-boggling considerations that have to be made for even a fairly basic event.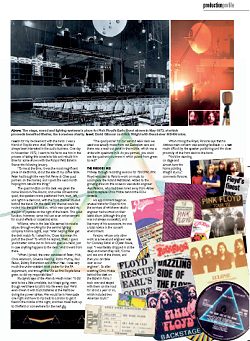 TPi Dark Side article, Summer 2006
The new issue features an extensive look at Roger Waters and his European tour - in particular, the Hyde Park concert on July 1st. This article is followed by a three page retrospective on the original Dark Side tours of the early 70s (that we helped TPi with).
Both articles are fascinating, and all the key personnel are quizzed in depth about the events. Essential reading...
As an online exclusive, we've got all the relevant pages available for you to download the pages in Adobe Acrobat PDF format, in low resolution format (in other words, the pictures are reduced in quality and clarity from what appears in the magazine itself).
If, after seeing these, you'd like to buy the magazine itself, copies can be purchased by contacting the Circulation Dept at Mondiale Publishing Ltd on telephone number: +44 (0)161 476 5580. The relevant staff can advise on price and payment methods depending on the applicant's location.
The articles can be downloaded page by page through the following links:
Our thanks to TPi's Mark Cunningham for his generosity to Brain Damage visitors. Please note, these downloads are exclusive to Brain Damage and must NOT be used on other websites without Mark's express permission. They are © 2006 Total Production International.