This afternoon (August 16th), Harvey Award Hall of Fame inductee, comic book guru and master artist, Neal Adams will appear on US radio talking about such things as the stunning comic book artwork he has created for Roger Waters.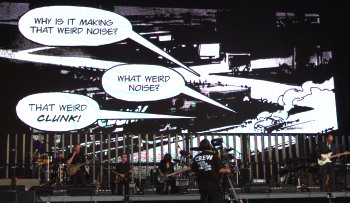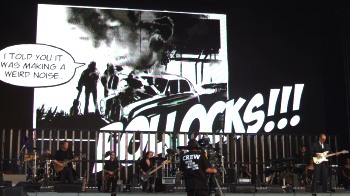 Leaving Beirut (pictures from Hyde Park, London show)
During his current "Dark Side Of The Moon" tour, hitting the States in a fortnight, Roger performs his recent song "Leaving Beirut". To help with the narration of the song, which details Roger's own story of trying to get back home as a youngster, Adams' work fills the screen behind the band. Created in conjunction with Roger, Sony, and Bill Sienkiwitz, the images fill out the story, and provide a strong visual hook for audiences who potentially are unaware of the song.
The interview will be aired on Fanboy Radio, a live comedy radio show about the world of comic books and pop culture hosted by Scott Hinze and Oliver Tull. It airs from the KTCU studios in Fort Worth, Texas on KTCU 88.7 FM (The Choice), online via their internet site's streaming audio, and is syndicated across the United States and Canada.
Apart from his work with Waters, Adams is responsible for the rebirth of such icons as Batman and Green Lantern for DC Comics, and the X-Men and Avengers, for Marvel Comics in the late 60s and 70s. Neal also helped create Deadman, drew the timeless Superman Vs. Muhammad Ali story, defended comic creators' ownership rights and founded Continuity Comics and Buzzworthy Studios.
"Good fanboys respect the creators that built the foundation we enjoy today" says Fanboy Radio host Scott Hinze. "We speak with icons of current pop culture all of the time, but to be able to interview such a colorful and important artist as Mr. Adams is a real treat."
The other FbR host, Oliver Tull adds "I'm really excited to talk with Neal Adams. He's a living legend of the comic book craft and his naturalistic work inspired a generation of artists like me. I can't wait to pick his brain!"
Should be an interesting interview. Tune in at 1pm Central (2pm Eastern, 11am Pacific) and give the show a call at (817) 257-7631. Fanboy Radio also broadcasts from www.fanboyradio.com and podcasts from www.fbrpc.com.