On September 18th, at London's Union Chapel, Mystery Jets and Mick Rock head a tribute to the late Syd Barrett.
The concert, "What Colour Is Sound?", is a tribute to Syd by some of those who have found him a great inspiration on their music and life, with all profit going to the Juvenile Diabetes Research Foundation (more details at www.jdrf.org). This charity was chosen as Syd passed away due to complications related to diabetes.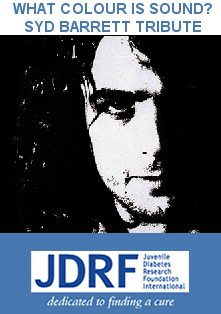 What Colour Is Sound?
Syd Barrett tribute
Photographer and friend of Syd, Mick Rock will compare the evening and tell some memories and stories, between the performers, which, apart from "VERY special guests" also include The Television Personalities, Daniel Treacy, Kid Harpoon and Lupen Crook.
Perhaps the ultimate Mystery Jets hero is Syd, whose Mick Rock portrait hangs in their boat yard rehearsal studio, ringed by a lifebelt... 'He embodies an attitude that we feel kinship with... that kind of innocence..." They are due to play an acoustic set of their favourite Syd Barrett songs as well as some of their own that have been influenced by Syd.
"Hearing "Piper At The Gates..." for the first time wasn't like a drug trip (I was 9) or even necessarily a mind expanding experience. It was like a warm hand being laid on your shoulder while the other one pointed to a whole new world, one which was as imaginative as it was non-sensical. Almost like Peter Pan taking Wendy by the hand and showing her a crow's eye view over London.
"I feel like Syd could have turned his hand to almost anything, I am just immensely grateful that he chose music. Watching him playing the guitar is much like quietly observing a child building a castle made from sand. Sliding his fingers up the neck almost as if discovering the placement of the notes for the first time. His lyrics were like those of someone looking through a kaleidoscope, reciting what he saw before him with quiet amazement." Blain of Mystery Jets.
The concert is on Monday September 18th and doors open at 7pm. The Union Chapel is in Compton Terrace, in London N1, and tickets are now on sale at £10.50 (plus any relevent booking fees) from www.ticketweb.co.uk, www.seetickets.com, and www.wegottickets.com.
In related news, on their forthcoming EP "Diamonds In The Dark", Mystery Jets have written a song for Syd Barrett. "Scarecrows In The Rain" is about Syd, and has been described musically as "West Coast psyche pop" in a statement.
When BD visitor Jon Longley saw the band at the Tonbridge Wells Forum in December they had brought along the picture of Syd framed by the lifebelt, hanging above them on the stage. Their music clearly is Barrett-influenced, and when Jon spoke to the guitarist afterwards and mentioned this, he seemed pleased that this had been recognised.