Reviewed by Glenn Povey. Originally published in Brain Damage magazine.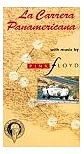 Originally reviewed in Brain Damage issue 24 as the Christmas Eve TV broadcast, this is the surprise official video release from PMI. This is however, re-edited and a bit more user-friendly.
The film covers the six day haul from south to north Mexico, to the Texan border, along the Panamerican highway covering some 2,500 miles. The road passes through the treacherous mountain ranges of the north of the Sierra Madre and the hot desert plains. The 130 vintage cars assembled for the race are in keeping with those running in the original 1950s races. Footage of these is shown with hairpin bends taken at breakneck speeds causing several fatalities in the process.

Even now the race is held on open road with fast cars driven by maniacs belting past local traffic at speeds approaching 130 miles per hour. Small wonder the Gilmour/O'Rourke team ended up at the bottom of a cliff. Sadly we are not treated to this spectacle!
The cover art is attractively packaged revealing a full track list with six new titles, two of which are written by Gilmour, Mason and Wright (tracks 2 and 13) and the remainder by Gilmour. Remarkably this represents the first time the three have worked together as a unit since WYWH. A group photo however, minus Wright, suggests he is still not a full member of the band. The band is made up of the AMLOR team less Scott Page.
The tracks run as follows:
Run Like Hell

Pan Am Shuffle

Yet Another Movie

Sorrow

Signs Of Life

Country Theme

Mexico 78

Big Theme

Run Like Hell

One Slip

Small Theme

Pan Am Shuffle

Carrera Slow Blues
The older material is either lifted from AMLOR or Delicate Sound Of Thunder, mostly in excerpt form with One Slip nearly complete. Things are just edited back to front or are different mixes. The newer tracks all appear to be in different form to that detailed on the TV show, either extended or re-cut. Certainly there is substantial difference. Here's the run down:
Pan Am Shuffle lasts for about six minutes in the first segment and is not too different to the TV version. It also reappears in the closing credits. A driving instrumental recalling Shine On 6-9, it has promise for development. Country Theme is an acoustic and electric catchy sort of number with piano backing harking back to Obscured By Clouds in an odd sort of way. Lasts around two minutes.
Mexico 78 is a long electronic piece just short of five minutes, sounding uncannily like Ozric Tentacles! Sits rather uncomfortably in this film. Big Theme is a classic sounding rock anthem with lots of guitars and crashing drums in an upbeat way, lasting nigh on eight minutes.
Small Theme comes over as a moody piece mainly synthesised clocking in at six minutes. Film soundtracky in a way! Carrera Slow Blues. So slow in fact it doesn't appear on my copy! Ah, well.
Make of it what you will. Car-buffs may like it, so may Floydies, but it is a bit on the self-indulgent side - then again, Gilmour and Mason can afford to be, can't they?
It is available to buy in the US and Internationally from Amazon.com (in NTSC format), and in the UK and EU from Amazon.co.uk (in PAL format).