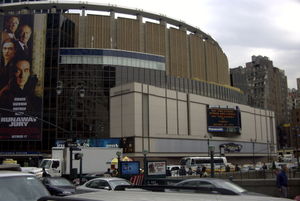 TICKET SCAN TO GO HERE
Capacity: 20,000
Concert starts: 8pm
Address of venue: 4 Pennsylvania Plaza, New York, New York 10001. MAP
Website: http://www.thegarden.com/
COMMENTS
David's 2016 tour of North America continues with this second of two concerts at one of the world's most notable venues, Madison Square Garden in New York City. The venue itself has won many awards, with only London's O2 Arena eclipsing the venue as one of the best in the world, according to fans, bands and promoters.
Tickets go on sale Monday, July 27th at 10am EST, through this link: Ticketmaster.com although please be aware that demand is incredibly high so you might need to be patient and keep retrying, as they seem to be adding tickets for sale progressively. We also understand that there are a limited number of VIP packages available for this venue.
As an additional incentive, purchasers of tickets online who are resident in North America will be emailed a code, redeemable on the CD of David's new album, Rattle That Lock. This is subject to terms and conditions, which should be available to you from the ticketing website.
The newspaper advert for the concert, seen to the right and viewable in more detail by clicking on it, is courtesy of Elliot Tayman.
SET LIST - highlight the following with your mouse to read...

FIRST HALF:
5am, Rattle That Lock, Faces Of Stone, Wish You Were Here, What Do You Want From Me, A Boat Lies Waiting, The Blue, Money, Us And Them, In Any Tongue, High Hopes.

SECOND HALF:
Astronomy Domine, Shine On You Crazy Diamond, Fat Old Sun, Coming Back To Life, The Girl In The Yellow Dress, Today, Sorrow, Run Like Hell
ENCORE:
Time / Breathe (reprise), Comfortably Numb.
WARNING - SPOILERS AHEAD!
Do not read on if you don't want surprises to be spoilt, regarding what the band played!
David's tour of the Americas (the end of last year in South America, and March/April this year in North America) has been a resounding success. With some tweaking of the set list recently, tonight's show had the same arrangement of songs as last night, but that featured a slight change over the previous night (April 10th, at New York's Radio City Music Hall).
As final shows go, early reports are that the show was an absolute stormer - one of the best of the tour - so far. Remember, David and his band have another show toward the end of this month, in London, and in June, the 21 shows of his 2016 European Tour start.
The band are clearly in the groove, and the audience gave every song the ovation it deserved.
We'd love to know in more detail how the concert went. Did you go? Let us know what YOU thought!
YOUR HELP NEEDED! We want to cover David's concerts the best we can, to share the experience with everyone, especially those who won't be able to attend the shows. We'd love to see ANY pictures, tickets scans, reviews, newspaper reports, and anything else you come across for this show - we look forward to hearing from you!