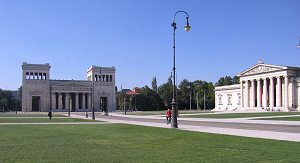 Konigsplatz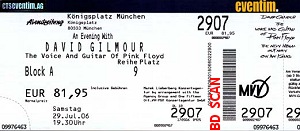 Ticket scan - Robert Stoger
Concert starts: 7:30pm (doors open at 5pm)
Address of venue: Königsplatz 1, 80333 München, Germany. MAP
SET LIST

FIRST HALF: Breathe/Time/Breathe Reprise, Castellorizon, On An Island, The Blue, Red Sky At Night, This Heaven, Then I Close My Eyes, Smile, Take A Breath, A Pocketful Of Stones, Where We Start.

SECOND HALF:

Shine On You Crazy Diamond, Astronomy Domine, Dark Globe, Fat Old Sun, Coming Back To Life, High Hopes, Echoes.



ENCORE:

Wish You Were Here, Comfortably Numb.
COMMENTS
The heavy rain experienced during this show didn't dampen the spirits of the audience, who enjoyed the performance at the outdoor venue. The set list was unchanged from that played in Austria, which meant Astronomy Domine and Dark Globe got another airing as a tribute to the sadly departed Syd.
One difference to proceedings, which may have been a one-off, was the use of wine glasses, filled with differing amounts of liquid, to perform the start of Shine On You Crazy Diamond! Some of you will recall that wine glasses were used as part of the instrumentation of the aborted "Household Objects" project - and indeed, the recording made of them was indeed used for the start of Shine On on the Wish You Were Here album. David obviously likes the sound, as Alastair Malloy plays the glass harmonica on David's "On An Island" album!
The band now move west into France for tomorrow night's show at the Theatre Antique, in historic Vienne. If you are going, have a great time and tell us all about it!
Pictures on this page are thanks to Josef Massinger.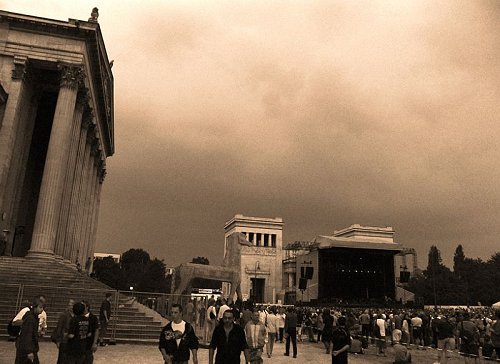 SHOW REVIEW
By BD contributor, Matthew Garris
I had the pleasure of attending the DG concert in Munchen (Munich) last night.
The concert was about 3 hours long. There was a lot of rain in the first part. From what I could tell, he used his red 57' RI Fender Strat (85' ??), gold top Gibson LP w/ Bigsby bridge, white Tele, lap steel, and his black Strat. I have a candy-red 57' RI Strat (88') that is set up the same way as DG's, including the shortened trem bar. It was really cool to see him playing my guitar on stage. From what I have read, he also used the new BK Butler tube drivers. I have an old and new BK pedal and I think the new one does sound better.
This was my first DG concert. My wife's father was a roadie for Pink Floyd in USA some time ago.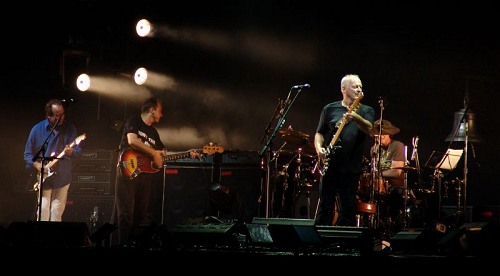 SHOW REVIEW
By BD contributor, Matthias Stürner
After the very civilized indoor shows I saw in Hamburg and Frankfurt, this open air show on the Königsplatz in München was more like a show as I remember them from the '94 Division Bell tour. More power, a more restless audience, more beer. The only things absent were Nick Mason and the circular screen. I thought the volume of the concert was a bit too high, others didn't complain, so it was probably a matter of where you were placed in the audience.
The show started in sunshine at 7:30 with Breathe/Time/Breathe Reprise. While I think starting the show with the heartbeats of Speak to Me is the most impressive way possible, there was a distinct drop in the atmosphere when almost everyone left the stage before Castellorizon. So for the sake of the general flow of the concert I rather prefer the setlist with On an Island alone making up the first half.
What followed was musically even better than in the concerts in March. Gilmour's voice was in a better, I would even say in fine shape, he took more freedom when soloing, one could notice the band was very acquainted with the material by now.
Besides the segue from Time into Breathe Reprise (which is my all-time favourite segue in the Pink Floyd catalogue and which was one of the many moments where Steve Di Stanislao could prove he really has the right feeling to play Pink Floyd music), the highlight for me in the first half was And Then I Close My Eyes. This piece had received some rearrangements as compared to March, more solo spots of various band members and also featuring Gilmour playing a real cumbus (or whatever), something I don't remember from the shows in March.
The band retired for their break to a big tent at the right side of the audience which meant they had to cross "public space". So when they returned to the stage after the break temporary barriers were erected so that they where not hassled by the audience. Only Dick Parry didn't bother and left the tent earlier, he walked back to the stage through the audience unnoticed by anyone!
The second half started with a version of Shine On, which, according to the announcement of Gilmour, was played in an arrangement never played before: it featured Phil Manzanera, Dick Parry and Guy Pratt playing wine glasses, i.e. a glass harp to emulate the keyboard sound at the beginning of the song! This sounded very beautiful. They were later accompanied by the familiar keyboard solo and then of course by the familiar guitar solo. So it was very different from the way Gilmour used to play Shine On recently with the much sustained guitar chords at the beginning. I liked the glass harp version very much. By now it had become dark enough to appreciate the great light show, but it became darker than it should - towards the end of Shine On a heavy rain shower started which lasted during Astronomy Domine and Dark Globe.
This was very fitting in a way; the rain started during a song about Syd Barrett and lasted for two songs which were written by him, as if this was done on purpose to weep for his recent passing away?
Anyway, the audience didn't appreciate the rain of course and became very unsettled as everyone was trying to don their raincoats and even to open their umbrellas (a very unfriendly thing to do at an open air concert). After 10 minutes luckily the rain stopped, everyone remained standing now and resumed with recording the show with their mobile phones. Because of all this rain-caused rush I wasn't very attentive during Astronomy Domine but I had the impression this song sounded a bit unrehearsed. Dark Globe was beautiful and very fitting.
After the rain Fat Old Sun was played, Gilmour this time soloing with a white Telecaster. Coming Back to Life and High Hopes followed and then of course Echoes: my English vocabulary is not sufficient to properly describe how great this piece is. Out of this world. Magnificent. Brilliant. It was even more powerful than in March. It featured real dry ice smoke - the kind of smoke which flows at the floor of the stage and then down into the audience like a waterfall. It makes the band appear like standing above the clouds. They had used this dry ice waterfall-effect also in the 70s during Echoes. Apparently nowadays they couldn't use dry ice in indoor venues due to safety restrictions. The light show is really exceptional during Echoes, especially during the second half of the piece. Lasers where used throughout the show, but during the encores they were most prominent, including the famous fan-shaped laser during Comfortably Numb.
And so a great show ended. We left the Königplatz wet but very happy. David Gilmour is not only the voice and guitar, but also the heart and soul of Pink Floyd. After this concert this was more obvious than ever, especially when comparing it with the current substandard Roger Waters tour. This year's live offerings of both gentlemen are really miles, if not worlds apart.
SHOW REVIEW
By BD contributor, Kris Martens
I am a lifelong Pink Floyd-fan. I had seen 'the creative genius' twice, yet I had never seen 'the voice and guitar'. Something had to be done, so me and my friend Peter, also a big Floyd-fan, decided to drive all the way from Antwerp, Belgium to Munich, Germany. Not without the (almost) complete Pink Floyd/David Gilmour-discography of course.
The setting was perfect. The Koningplatz is a beautiful square surrounded by majestic white buildings with pillars and all. Sun was starting to set. Heartbeats… 'Speak To Me'… Goosebumps, and yet not even a single note had been played.
He started off with the Breathe/Time/Breathe Reprise combination. It hit me that Gilmour's voice is still as warm and compelling as on the Dark Side-album. Maybe not as crystal clear as then, but it hasn't lost any of its charm and beauty.
Especially the gloomy percussive intro on 'Time' made a big impression on me. And 'Time' confirmed my opinion that Gilmour's solos are no less than brilliant. Gilmour really speaks with his guitar. Few guitarists are able to put so much emotion and storytelling in their playing. After this aperitif he served his entire new album 'On An Island', in a slightly different order.
The album itself I found good but not great, maybe sometimes a bit too soft and sweet for my taste. The live-versions of these songs however forced me to change my opinion about this. They were slightly rawer and more powerful, and Gilmour's singing was at times a bit less fragile as on the record, which helped the songs stand out better. So yes, on the way home 'On An Island' sounded even better than on the way over! Especially the strong performance on the saxophone on 'Red Sky At Night' proves his deeply passionate musicianship. After a satisfying first half, we had twenty minutes to grab a beer and brace ourselves for what was to come.
'Shine On' was simply fantastic. The opening sound, usually played by synthesiser with samples of wineglasses, was this time created by actual wineglasses played by Guy Pratt, Dick Parry and Phil Manzanera. 'Shine On' is undoubtedly a very beautiful, dramatic an emotionally charged piece, and the recent departure of Syd Barrett made the song even more magical.
And if that wasn't enough, the second song of that second half turned out to be 'Astronomy Domine'. I mean… wow… Great song, wonderful version. And towards the end of this psychedelic masterpiece, rain started pouring down. I was getting soaking wet, but didn't give a damn. The rain even added an extra dimension of 'trip' to the experience.
So when Gilmour stood alone on the stage to play Barrett's 'Dark Globe', coincidently my favourite Barrett song, something snapped in me, and I bursted out in tears. Especially the words: 'Wouldn't you miss me? Wouldn't you miss me at all?', still send chills down my spine.
And even throughout 'Fat Old Sun' and 'Coming Back To Life' (which he dedicated to his wife, Polly for their 12th anniversary), I had to constrain myself. The experience was too much. These were songs I had been listening to all my life, and to see them live now, in these circumstances was incredibly moving.
After 'High Hopes' came the absolute highlight of the evening: 'Echoes'.
My worries that this might concern a shortened version, or that the song might not work the way it should (I had heard of earlier live-attempts), were soon swept away. From the first ping to the spooky sound at the end, every second was fantastic. A twenty minute-trip of bliss. Definitely one of my favourite Pink Floyd songs, in a strong version: true to the original, without being a shallow copy.
And no matter how many times I hear 'Wish You Were Here'. It will always remain one of the most honest, beautiful and compelling songs ever. It's so simple yet so bold. Sadly often put in the wrong context, but when sung live by Gilmour, a pearl of a song.
And just when I thought I was emotionally run dry, he stabbed me with 'Comfortably Numb', containing maybe one of the most amazing, dramatic guitar solos of all time (to my opinion, just like everything else you read here!).
But I was a little bit disappointed by Rick Wright's vocal performance (I think he even lost his line for a moment!?). It was in any case a large contrast with David's top class steady voice and musicianship. (Maybe Rick was recovering from a rowdy birthday party the day before? ;-)
I deeply regret I am one of those Floyd-fans who never had the chance to see them live, but I am very grateful I had got to see this. I have seen a great many live shows in my life. But never had a performance make such a deep impression on me.
To end this (rather long, I know, sorry) review, I'd like to say this:
I had seen Roger Waters twice, and both shows were great and very exciting since I am a huge Floyd fan, and to a lesser extent also a fan of his solo-work. But still, I find the contrast between his mediocre shows and this mind-blowing Gilmour-show very confronting. Now, Waters might have written the bulk of the Pink Floyd-songs, I find his live versions of those songs are but run of the mill. It might have to do something with a poor choice of musicians (again, my humble opinion!). The funky drums by Graham Broad for example are not complementary to the Pink Floyd-sound. It could also have something to do with the fact that the (often most recognizable) Gilmour vocal-parts, he has to give to his musicians or try to do himself. And bluntly skipping the guitar-solo in 'Shine On' because it's 'too Gilmour' is just sad. I think the difference is that Waters draws from the concept and the content, while Gilmour draws from the music. The latter being the more interesting point of view concerning a live performance.
Again, what Waters lacks is what Gilmour has and the other way around, I guess. Its sad knowing that combined they can do things even greater what they do separately. And sad knowing such a future combination is unlikely, to say the least.
Me and my friend drove about 900 kilometres to see Gilmour. So was the trip worth it? Every centimetre! I sincerely hope I get to see him again. I already was a fan for life. Now I am beyond that.
SHOW REVIEW
By BD contributor, Josef Patocka
Me and my friend we were glad to see the DG (or we can call it PF:) show last night at Munich. We have traveled from Liberec Czech Rep. just by the Friday night to have cool weekend at Munich.
Need to mention I started to listen to floyd somewhere in 94` as I am 26 now ... I have just seen R.W. at Prague in 2002 but this was the first time I saw David and Co. and I have to say it was fantastic ! We did not get a good seats as we sat at block B4 (very right in the middle of the field) and the sound was not so good there. But we were enjoying the "On an island" performance anyway.
It was cool as the sun was "sinking slowly" during the whole ablum was played ( David played Parry`s sax in one number!). But after the intermission when I returned from the beer stand and just when the first sounds of Shine on was put out of the stage it also started to rain heavily. So the chaos came in place suddenly as the people started to stand up and moving everywhere ..
At least we had a good chance to move ourselves just somewhere to the middle of sector A so we were right in the middle of the crowd somewhere 20-30 m from the stage. We could go more into the front but we were stucked by the music as the Astronomy Domine crashed into the air. The rain stopped just after the fabulous performance of this rare classic was finished. David, Rick and also the rest of the guys looked in a good emotion and the performance was good. The atmosphere was very good even the rain was strong for a while and a good joke when during the rain David asked the audience if we are dry enough :-)
I have checked the play lists before so I knew what to expect but when they finished the Echoes in the entire concept I was flown away just to the dark side ...It was very well played.
Fat Old Sun was excelent and finishing with Comfortably numb the guitar solo with some smashing bits towards the end of the solo was powerful. It was even better than last year in Live 8:). The light show was huge and during the Echoes the full power of lights was used. Stroboscope along with laser blowed me away ..
During all the show David sang very warmly (apart of a few rhymes at the beginning of Coming back to life when the soundmaster fell asleep probably and so no voice went out of the PA ..) and also Rick did his piece of singing done well.
It was easy to see the guys were enjoying themselves that night. And so was the audience. I am not sure how many people was there I would guess saying 10.000 ? The field was not crowded at all.
More to we was not sure there will be Rick before I saw him playing first tones of Breathe. For me this was a Pink Floyd show and I am extremely happy the idea to go down to Munich came to me.
I have to say that only by the days flowing it is realized by myself that I have seen the best group in the world finally right before my eyes. It`s been a pleasure. Thank you all guys! Big UP Floyd ! Carry on !
SHOW REVIEW
By BD contributor, Sara
I had a great fun and great company there really... and I never got that wet!
If anybody got thrilled by the "experiment" on SOYCD (which was indeed something unique and so nice to see and hear!) what really shot me were the few notes David played before Where We Start, I was near to faint!
I had to buy a ticket for Venezia - I'll not reach the end of the month with a cent in my pockets but I don't care, can't wait for it!