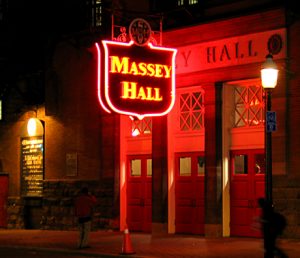 Massey Hall, Toronto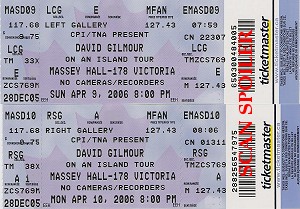 Ticket scans - thanks to Doug Hext
Concert starts: 8pm
Address of venue: 178 Victoria Street, Toronto, Ontario. MAP
Website: www.masseyhall.com
SET LIST (April 9th)

FIRST HALF: Castellorizon, On An Island, The Blue, Red Sky At Night, This Heaven, Then I Close My Eyes, Take A Breath, Smile, A Pocketful Of Stones, Where We Start.

SECOND HALF:

Shine On You Crazy Diamond, Wot's... The Deal, Wearing The Inside Out, Fat Old Sun, Breathe/Time/Breathe Reprise, High Hopes, Echoes.



ENCORE:

Wish You Were Here, Comfortably Numb.
SET LIST (April 10th)

FIRST HALF: Castellorizon, On An Island, The Blue, Red Sky At Night, This Heaven, Then I Close My Eyes, Take A Breath, Smile, A Pocketful Of Stones, Where We Start.

SECOND HALF:

Shine On You Crazy Diamond, Wearing The Inside Out, Dominoes, Coming Back To Life, Breathe/Time/Breathe Reprise, High Hopes, Echoes.



ENCORE:

Wish You Were Here, Comfortably Numb.
COMMENTS
The first of two nights at Toronto's Massey Hall saw a hugely appreciative crowd going wild, particularly as the second half kicked off. No real surprises in the setlist, and the widespread rumours of the special guests who appeared in New York City having joined the rest of tour proved incorrect (of course).
Initial comments suggest that the band were on storming form - the few days rest between the NY shows and these concerts were obviously spent well. Our thanks to George Lee for the setlist and the brief rundown of both night's of the show. And for those interested, we've got the thoughts of fellow Brain Damage visitors here, too!
Back down south to Chicago next... for two shows on Wednesday and Thursday. And they promise to be good ones!
SHOW REVIEW - April 9th
By BD contributor, Andy Pyne
I am from Buffalo NY and attended the Massey Hall show last night. Myself and many another fans had high expectation going into the show...those expectation were far exceeded. Seeing the show in such an intimate venue like Massey allowed you to feel completely connected to the band.
The first set was spectacular. It was very clear from the beginning that David's voice has not waned one bit over the years. "On an Island" is the perfect vehicle for showing his vocal range and skill.... hearing it live was hypnotic. What really blew me a way in the first set were the times he pulled out the acoustic guitar (Smile, for example). The combination of his riffs and Richard's keyboard was beautiful!
The second set was a true ride back in Time. Most notable for me was Wots ...the Deal and Fat Old Sun. While I have listened to them many times I never envision the incredible jam that ended each tune. You got the feeling you were in a bar somewhere and you were watching a band just completely lose themselves in the 10 minute jam as they all had smiles plastered to their faces. You got the impression they were enjoying the time as much as the audience.
The other standout in the second set was Echoes. It was amazing to watch David and Richard completely feed off of each other as they played. Back and forth, one would call out with a riff and the other would answer. This is were Richard shined most, creating combinations of notes that make the hair on your neck standup! Also, in true "Live at Pompeii" style David made his guitar reach notes and sounds that don't seem possible. You truly felt as though you were watching the master at work (and at play).
I will never forget this concert, as the memories of the sights and sounds are now burned into me. Thank you to David, Richard and the rest of the band for what seemed like a one in a lifetime experience!!!! Amazing!
SHOW REVIEW - April 9th
By BD contributor, Thierry Leveque
I just want to add some details about the last night show at the Massey Hall Toronto (April 09) from a guy that drove 700km from Montreal just for the show!
First the Massey Hall is really a fantastic place. I was on the first balcony, on the left side. Almost on the stage! Really, it was unbelievable how close I was. Not more than 25 feet from David! And over the stage. It was very cool to see all the gear from so close. There is almost no space to walk around on this stage because there are too many things on it!
I was directly over the guitar tech section, where there was this incredible guitar rack, with drawers full of incredible axes!
The band was really fantastic. They were really in shape - especially Richard. He was jumping and dancing behind his keyboard and always joking with Jon Carin.
The drummer (Steve) seems to really enjoy his experience. He had a very good time during the middle section of Echoes! I'm sorry Nick, can you really play that? ;-)
The best part of the show was this song - it was a fantastic performance of Echoes with an incredible light show (complete with lasers!).
And what about the incredible version of Fat Old Sun! Wow!! The best version ever! I really hope there will be a live CD or DVD - just for this song! (It has the same start as the version on "David Gilmour in Concert" DVD, but with an incredible rock ending!)
The bad part: there is always someone in the crowds that is yelling or whistling at the wrong moment! Shut up and listen!!!
In conclusion, this was one the best shows I ever saw... I just hope it was not the last time I will see him on a stage...
SHOW REVIEW - April 9th
By BD contributor, Eric Miller
The words Fantastic, outrageously awesome come to mind...
After great anticipation David and the Band was greeted with well recieved applause. They started by playing all the On an Island tracks. David explained this and also said "After a break you will hear some very familiar stuff that I know you want to hear". Boy, was he right.
Castellorizon started and everyone went wild. On an Island brought a lot of emotion to the crowd as everyone started singing. One of my biggest surprises was how Take a Breath brought so much emotion and boy did they rock!!! Of course, this was only the beginning.
David introduced the band and Richard Wright was well received with much applause. As in the other reviews, they traded instruments but that did not hurt the music.
David did a fantastic job on the sax solo. It was quite moving to me to see David in the foreground playing and Richard in the background. Both older with gray hair and rocking like THEY only know how to!
There was a brief break for intermission. I did notice that like NYC there was a lot of people moving during the first set. That stopped abruptly in the second. I wonder why...???
At intermission my nephew said "you know, if they stopped here this would be fine with me". I said "Just wait until they start up again".....
Second Set: They started with Shine On. WOW. To hear this unbelieveable song live is awe inspiring. Dick Parry was absolutely outstanding on the sax solos!! He came out carrying his baritone sax in front and Tenor sax draped behind him. He jammed and mid-solo switched to the tenor. AWESOME!!!
They did Wearing the Inside Out. Richard singing was great.
Next was Wot's uh the Deal....Very cool. I got my wish as they played Fat Old Sun. Sweet solo by David. Time was next followed by Speak to me and Breathe. Then, High Hopes. David on the lap guitar was excellent.
Then it happened.....The single note by Richard...Everyone went wild as ECHOES was played!!!! Totally mind blowing. All I can say is I have never seen a band totally BLOW AWAY the audience. Our jaws were dropped from total fascination as the band did a unbelievable performance of it... The encores were the same....WYWH was perfect.
Everything was right on. No flaws in the second set. If this was not enough Comfortably Numb was a perfect conclusion as that was exactly how I felt in my seat. David's guitar solo was phenomenal!!!
The concert was well worth it. I waited 15 years to see them. What a great experience! My parting thought was how Richard Wright IS the unsung hero of the group and he SHINED last night.
Well, maybe with a little luck there will be one last time....
SHOW REVIEW - April 9th
By BD contributor, Justin
I attended the first night concert at Massey Hall. The first set consisted of all the songs off On An Island. They were all played beautifully as the band seemed to be in rare form. You could feel the energy from them that they were just in sync with each other.
Take A Breath was a notable stand out. It was played with a harder edge to it and the light show was blinding. Pocket Full Of Stones introduced the evening's first use of lasers. David was on the money with Red Sky At Night. On An Island ,Where We Start and This Heaven were also breathtaking.
After about a 15 minute break the signs of Shine On began and you just knew to buckle up for the ride. Shine On was played partially like the album and partially like the David Gilmour DVD. It really worked well.
The treats just kept flowing as What's ....Uh, The Deal and Fat Old Sun were both played. They sounded better live than most bands could do in the studio. High Hopes was strong as the guitar solo took you to a different place. Time was also extrodinary.
The second set concluded with Echoes. A personal favorite of mine and it was played to perfection despite an annoying fan yelling during some parts. Echoes also had an amazing light show, which included a great laser display and seemed to give the song more emotion. Echoes was the highlight of the show.
Wish You Were Here and Comfortably Numb played as the encore and it seemed as the show had ended in the blink of an eye. As my wife and I walked back to our hotel, all you could hear was people rambling on about how great the show was, recounting highlight after highlight. There are no words to adequatley describe how good this show really was. If you attended the next night, I can't wait to hear about it.
SHOW REVIEW - April 9th
By BD contributor, Angela Overbaugh
I saw David & company Sunday night at Massey Hall in Toronto. Words cannot even describe how awesome it was!
The build-up in Echoes brought shivers down your spine...which, by the way, Echoes alone was worth the 300 mile drive and ticket price. Wish You Were Here was the usual sing along, and of course the guitar solo on Comfortably Numb stands on its own.
The band was so tight, and each member brought a huge contribution. Rick Wright was SO on fire! I am so thankful we were able to get tickets and be there, as I really doubt David will ever tour North America again. But then again at the end of the show he said "we'll see you again" and I hope he wasn't kidding!

SHOW REVIEW - April 9th
By BD contributor, Brent Ingalls
FIRST HALF:
The mood or ambience was great as this was a small very historic theater, and inside a fog machine had pumped out a great deal of mist prior to the audience entering. It was a murky foggy type of surrounding and as well a sweet almost incense smell was in the air. As stated on sheets taped to the doors the show promptly started at 8 pm and these noted that it was being filmed as well. The beginings of Castellorizon droning pulsating began growing louder and louder.
Then on came the band and very loud appreciative roar. David gave a brief introduction of the upcoming show and the second set was to be older favorites.
I had seats on the top tier, or third balcony, and was overlooking the band mostly able to see everyone but Phil Manzanera. Behind Jon Carin tucked in the stage right side corner was the soundman. Guy Pratt was wearing the well known t-shirt "Didn't They Do Well".
Only a few mild interruptions if you call it that. Just signs of appreciation really, "We love you David!" a few times was shouted.
Castellorizon was a great opener, setting the mood on a up swing with a few extra notes added as improvations and the audience cheered with approval as this was just one of the two special nights that us here in Canada would be privy to. Lighting and the small stage was fine - the essentials were there. Great musicians and a polished small production was just fine.
On An Island which was great to hear live with the end solo having some interesting bends and sustains to close out the piece by David.
The Blue which was beautifully done in a live atmosphere, lighting was tastefully done by Marc Brickman. Casting of a beautiful wash of blue over both stage and audience and this is one of my new latest loved songs.
Red Sky At Night had Mr.Gilmour on center stage with a saxophone and deep red light cast down on him while the band was shrouded in darkness. Even though a brief piece his saxophone debut for us the audience was quite good.
This Heaven a nice jammed blues number had a nice tumble too. It came with some extended guitar parts and nice blues leads by Gilmour on a Gibson Les Paul Gold Top and Guy Pratt on a modern electric standup bass.
Then I Close My Eyes at the middle Dick Parry saunters to stage right and delivers his trademark sax sounds wonderfully.
Take A Breath was one of the many highlights of the night of this first set which had heavy strobe-light action mostly throughout and this is when the fire alarm went off at the end of the song and then as David put it "Or is it a fog alarm?".
Smile was where things slowed down for a bit and David doned an acoustic guitar and the slide parts were gracefully done on a standup acoustic lying flat upright.
A Pocketful Of Stones was an interesting piece live with the orchestestral sections handled by Wright and Carin; David's voice was very raspy near the end vocals as he had slight difficulties for a moment.
Where We Start was both a great album closer and a great set closer, too.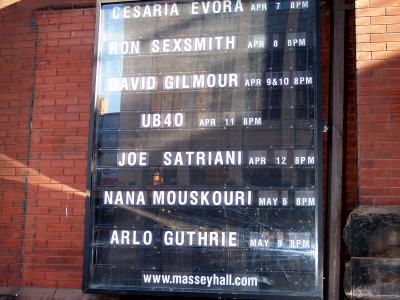 SECOND HALF:
Shine On You Crazy Diamond multi coloured triangle shapes was over each member as the maestro opened this epic and in 2006 had a nice modern swagger to it with a lot of beauty and grace played on a candy apple stratocaster.
Wot's... The Deal very pleasing hearing something not usually played and giving an even wider reach back to a catalogue of ones never heard live and his lap steel work is stunning weaving nicely about.
Wearing The Inside Out a slow soft bass intro and then nicely dropped into the piece with Dick Parry doing his part sounding very much like the studio version and Richard sang superbly. The guitar solo was delivered with a fury and distortion.
Fat Old Sun one of my favourites and the organ starts it off with the Hammond sounds and the guitar solo just kept building and building until reaching a crescendo just like the early versions of live 1971 tour.
Breathe/Time this is where Guy Pratt muted a couple of bass strings to give the ticking of the clocking sounds. Breathe Reprise was sounding like the live 8 rendition with Jon Carin having some of the lap steel parts down for the fills.
High Hopes started with Steve hitting the Division Bell (could not resist) and David with Spanish type guitar licks added in and a soaring solo reaching the highs and ending abruptly for alot of impact.
Echoes was up next which is my all time favourite song which got an explosive excited applause. As all but one note, ping, was the sole note heard which slowly got the song up and moving along with beautifully shared vocals and harmonies with Gilmour and Wright. Richard was jumping around on his squared off keyboard section getting the notes in with passion.
Then the seagull sounds were awesome sending the audience in ecstacy. The groove started back with the rhythm Richard was encouraging Steve to start the drums fills in and keep them coming too with a big smile.
The band briefly left the stage, and I spotted Richard at the back door having a smoke and teetering or leaning in from back door which a lot of people could not see perhaps but my balcony seat gave view to see him waving and taunting the audience in jest.
ENCORES:
Wish You Were Here lasers criss-crossed each other making triangle shapes in various colours at times (orange,blue, red). Lots of audience interaction too.
Comfortably Numb Richard sang Roger's parts with David's sharing the vocal stage. Again lasers came out and made a blue matrix up to the top ceiling at the back of Massey Hall. Richard's stage persona was a happy playful and highly charged one, smiling, waving about and moving to the music at times. Truly a great musician and in great spirits, truly a key member to the sum of the parts. The closing out solo was exhilarating as always and a powerful flood light from behind created a huge shadow of David onto front facing audience similar to the Wall concerts.
A full band bow at the end and a few waves and it was all over and back to the hotel which was directly across from Massey Hall.
Overall 5 stars *****
SHOW REVIEW - April 10th
By BD contributor, Rob Godwin
Well. The first concert I ever attended was Pink Floyd at Manchester Free Trade Hall in March 1972. It was an evening frozen in time that has stuck with me ever since. When I heard DG was coming around, AND was bringing RW with him I absolutely had to go. I had also been promising my teenage kids that "If Floyd ever plays again I'll make sure I take you."
Well it may not have been exactly Floyd but it was as close as they're probably ever going to get to seeing them. Massey Hall is a brilliant place to see a show. We were sitting at the very back of the 1st floor balcony but there really isn't a bad seat anywhere in the house. Floyd's music has been the soundtrack to my life (heck I even bought PATGOD in 1967 before he joined the band.) IMHO Gilmour has been the main musical force since Ummagumma. I've seen him play countless times since then and I've never been disappointed.
I had a smile plastered from ear to ear during Echoes because I was sitting in almost exactly the same place I had sat 34 years earlier. If anything, the performance was even better than those halcyon days of yesteryear.
I have absolutely no complaints about this show. The sound was excellent, the lights were WAY better than I anticipated in such a small venue. His playing was just stellar, as was his voice. RW looked like he was having a good time and it was just great to see him really getting into it. Great selection of songs. The new stuff actually sounded better than the album.
At the end of the show my 15 year old daughter said," Wow! That's the best concert EVER!" My son wrote a review of the show for his college newspaper! Looks like real talent can reach across the generations. Thanks David. You made my year.
[Rob Godwin is the publisher of The Pink Floyd Encyclopedia, Pink Floyd - The Press Reports and Which One's Pink?]