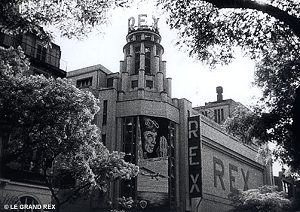 Le Grand Rex, Paris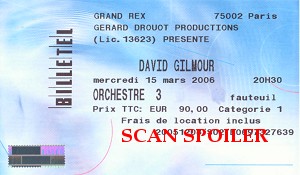 Ticket scan
Concert starts: 8:30pm
Address of venue: 1, Boulevard Poissonnière 75002 PARIS. MAP
Website: www.legrandrex.com
SET LIST

FIRST HALF: Castellorizon, On An Island, The Blue, Red Sky At Night, This Heaven, Then I Close My Eyes, Smile, Take A Breath, A Pocketful Of Stones, Where We Start.

SECOND HALF:

Shine On You Crazy Diamond, Wot's... The Deal, Wearing The Inside Out, Breathe/Time/Breathe Reprise, Dominoes, High Hopes, Echoes.



ENCORE:

Wish You Were Here and Comfortably Numb.
COMMENTS
David's return to Paris was keenly awaited by his legion of fans, even if the Grand Rex made little of the show on its facade (contrast this with the large neon lettering on the front of the Olympia the following night!). His first shows in Paris for some four years, they found him and his very able band in fine form.
The Grand Rex is a beauty - big, plush leather seating, Italianate architecture abounding (including a small balcony each side flanking the stage - the perfect vantage point for Polly Samson!) and a ceiling that emulates a starry sky. At one point, towards the end of the second half, I was lost in the music, and looked to the heavens - the stars twinkling away throughout the performance added a special atmosphere.
With a show unchanged from the first two nights, in Hamburg and Dortmund, it is a well-ordered run through of the very latest album, On An Island (performed, in a slighly changed sequence) as the entire first half, followed by a selection of Pink Floyd classics from as early as 1971.
For the die-hard fan, one of the joys of this latest tour is the setlist, consisting as it does of songs that haven't been played for some time. Indeed, one of these - Wots... The Deal - has never been played live before this tour. It's a lovely song, and works very well live - so better late than never!
My big regret, through all the years I've listened to the band's music, was that I'd never seen Echoes played live. Well, words cannot express how good it does actually sound performed in front of you. Rich and powerful, with all the bombast and subtleties woven into the performance, complete with bird noises and all manner of guitar trickery. Truly wonderful - long may it remain as the key part of the second half...
One of the joys of seeing the band playing in small venues, is being able to see the wonderful interaction between the musicians throughout the show. It is a sign of how well they play together, and how they mesh together as a true team, that their smiles and jokey comments keep coming. It speaks volumes about them, and goes some way to explain how the show sounds so good.
Quite a reserved crowd tonight, with the loudest comments coming as David introduced the band. He faltered as he got to the final name (Richard Wright), saying "...and someone else...". Cue one brave soul ventured "Roger!", and another with a very Gallic "Reeechaaaarrd". Other than that, there was little of the rhythmic clapping or whistling that seemed a feature of the crowd to come in the Olympia.
A great show, and a spine-tingling Echoes. A number of the audience also had tickets for the following night - little did they know, but there were a couple of surprises in store...
SHOW REVIEW
By Dave Crook
The Grand Rex is a a beautiful old theatre in the centre of Paris - really great helpful staff, we had tickets to collect and it couldnt have been easier. It's a bit like Brixton Accademy in size and decor inside... however the bars where woefully understaffed for the amount of people there!
The set list was the same as the previous two German gigs you have reviews of... the only difference is that the Island songs 'rocked' a lot more than on the album and they seemed to go on a bit longer... the sound was fantastic - really 'warm' and the live mix was wonderful; you could hear every note, the only one gripe though was that you could hear the wooosh of the smoke machines over the music especially in the quiet passages. I had read elsewhere that the smoke was also being used as a screen for projections - not in paris so I dont know whether it didnt work, they dropped it or I'd misunderstood the idea. Also 8.30 til 11.30 - there cant be many 60 year olds out there doing three hours most nights of the week!
David's voice for the most part was great, guitar playing brilliant as always although there did seem to be some technical problems with his peddle board a couple of times, the sax playing was OK - although why he bothered when he had Dick Parry with him??
The rest of the band is fantastic (is that a line from WYWH???) - especially Richard Wright who did far more than I thought he would; as we where sitting quite high up I could see what he was playing - and he looked like he was enjoying it as well although he hasn't found his singing voice yet and Wearing the Inside out was terrible, although when he harmonised with DG he was good. Carin was excellent - three keyboards and two guitars as well as singing... Guy Pratt cant help himself bouncing about (especially during the 2nd half) and he just couldnt stop himself doing a bit of slap bass as well, good harmony vocals though - he had the 'didn't he do well' T on again - I do hope its been washed!
The rest of the band great and anonymous, just as it should be. Dick Parry seemed constantly surprised he was there - I could see him rushing to get his sax before he came on in a state of mild panic, like he'd forgot he was needed (much like when he wandered off mid piece at the RFH a couple of years ago... but he was note perfect for the floyd stuff. Dominos I didnt think was as good as the RFH gigs.
Its was a good gig - long enough and loud enough and I only have a couple of complaints. Firstly, the merchandise is terrible! And very very expensive. The designs on the T shirts are awful... 25€ for a kids size T shirt! Secondly, DG wandered on stage halfway through the intro tape and didnt say a word to the audience until about 5 songs in... not even a bonjour... "good manners dont cost nuffink!"
SHOW REVIEW
By Frederic Jean
The lights went down right on time, and the audience that was quietly waiting for the band turned instantanately electric. The first two songs opened the show in a really convincing way. Everything calmed down afterwards. As I have not listened to the album "On an Island" yet, I cannot say how it compares to the live performance, but obviously during this first half we went through fine pieces of music.
It was a pleasure to see DG enjoying playing his stuff, with his historical bandmate not too far on his left. Also, Dick Parry did a perfect job. I always thought he was the real fifth Floyd, as the sound of his sax and his melodies fit so naturally the music on many classic songs. His work on this tour proves it one step further : great counterpoint on the new material, and the old songs played as if they had been recorded last week.
The second part of the show started with DG on his red strat for a great SOYCD, mixing different versions of the song. After all, who cares about hearing for the hundredth time the original version, and this tour is far from an accoustic experience like in 2001-2002. I felt that the result was the best possible, and certainly one of the best versions ever. "Wot's the deal" was then executed nicely, with a warm final solo. At this point I must say that all vocals were perfect : DG in great form, RW doing a very decent job, and good backing vocals and overall balance. "Breathe" and "Time" being two of my favourite songs, I really enjoyed hearing them linked in a 10-mn performance or so. Unfortunately, it seemed to me that DG was having some problems with his guitar and/or effects during the solo of "Time", that was disturbing him. In fact, we have seen him tweaking quite often during the show. "Dominoes" was nice to hear, though 2002 version is better, and "High Hopes" featured a great pedal steel solo.
Finally, the highlight of the show was undoubtly "Echoes". The audience seemed not to realize immediatly what was going on. No explosion then, but several ovations instead, separated by a few bars of the long intro. "Echoes" was played very loud in its loud parts, and very clearly during the verses. 20-mn long. Nothing was ommitted.
The encores are known by heart : no surprise here, except hearing distinctively the audience singing loudly the verses and choruses, in this rather small venue. This evidenced how popular some songs have grown, despite they are emerging from a rather sophisticated music work.
Some details could have been irritating : some weird equalization (low-range especially), or parts that could have been played more accurately (not pointing at DG, here). I must say, however, that it happened to have absolutely no importance, as the strength of the songs was filling the hall and your mind. Pink Floyd spirit was palpable at some points, and being able to hear such a set-list, performed by that particular line-up, in a middle-sized concert hall was something really enjoyable, since I was born the year that "Meddle" was released.
SHOW REVIEW
By Jeff Ramm
I took a four-day break with my other half to Paris to include (what was to be the highpoint) DG at the Grand Rex on the 15th. Paris is a nice place - good food, excellent history and architecture, shame about the dogsh*t everywhere and pedestrian-hating drivers.
The 15th came and we queued politely like good English people do, then was escorted to our seats. A shame about my seat being one of those half seats at the end of a row, especially as the other seats looked so comfy, and why are the people who escort you to your seats not paid or was I done? D'oh! [The escorts took you to your seat then demanded a gratuity for doing it - quite menacingly at times! - Matt]
Show starts a few minutes late, by my watch, and straight into Castellorizon. Even this had the bass rearranging our internals! The rest of the new album followed which was superb, and grows on you more and more through repeated listening. Excellent.
Intermission, where at this point the crowd in the foyer all lit up cigarettes and the ensuing smoke drifted in...
Set two and finale: an awe-inspiring lesson of how to play guitar with and without a band and please an impassioned audience beyond anything I have witnessed in the flesh before. Sublime, intoxicating, exciting, moving, sensual and perfection are all things that spring to mind, which are not over exaggerated.
I`m not going into track listings here - it's not important, you probably already have an idea or you`ll find out what they are when you go, and you will NOT be disappointed, trust the expert.
I`ll be there to see it all again on the 29th May at London's RAH, God willing.
Thank You David Gilmour.
SHOW REVIEW
By JYB
With its high ceiling Le Grand Rex offer a wide volume of space. From my location the sound was excellent, all instruments being clear and well balanced. Although I am pretty sure that the general sound system was mono, we could hear Phil Manzanera's guitar coming directly from the amp behind him on the left of the stage.
The first part was a bit disappointing. I'd never heard the album before and discovered it live on that day. If the performance in itself was good, I found that this was a little weak at the exception of "Take A Breath" which really sounded better than the rest. Hopefully David did not extend the songs too much so the first half ran quite smoothly.
The second half featured some Pink Floyd classics and other goodies:
Shine On: great to hear it live with a rhythm guitarist, but too bad that no backing singer to support David's voice. Nice guitar work from David.
Wot's... Uh The Deal: first revisit of pre-DSOTM era repertoire.
Wearing The Inside Out: great version, I like this one better than the one on TDB.
Breathe/Time/Breathe reprise: pure pleasure but too short.
Dominoes: better version than 2002 - really enjoyed it.
High Hopes: nice version but preferred the 2002 performance with the backup singer; but the finale with David back on the acoustic guitar was great.
Echoes: well, I could not believe he would perform that one again. The light show was fantastic in a way, but from my location it was very uncomfortable/unpleasant to look at the stage (same for Take A Breath).
Encore: Wish You Were Here: I just prefer the way Roger Waters performs it live so not too much to say.
Comfortably Numb: great as usual. Liked the way the "AAH" was performed!
David was not very talkative during the evening; he simply introduced his musicians and had a short word for Syd before Dominoes.
SHOW REVIEW
By Thomas Boileux
Arrivé à 19h30 devant le Grand Rex, l'excitation est à son comble et les quelques malchanceux qui n'ont pas encore de place cherchent désespérément quelqu'un dans la foule au dehors pour qu'ils leur en procurent une ! L'entrée au Grand Rex se fait vers 20h, et nous sommes très bien accueillis et placé par le personnel sur place...
20h35, le show commence sur le fond sonore de Castellorizon, premier titre du nouvel album... David Gilmour arrive alors, emmanche sa Fender Stratocaster noire ( la même qu'à la réunion avec Roger Waters au Live 8 il me semble) et entame son solo sous des milliers d'yeux ébahits...le son est très bon ce soir, et en réecoutant On an Island ce matin, j'ai cru réentendre la version proposée par la fine équipe de David Gilmour hier !!! Très impressionnant !!
L'ensemble jouera l'album On an Island en intégralité, chose que l'on avait pas constaté depuis les tournées Animals/Wish you Were Here ou encore The Wall... Un album remarquable cela dit, avec un David Gilmour au meilleur de sa forme tant d'un point de vue musical qu'au niveau du chant, rarement faux...Dave nous annonce alors qu'après Where We start qui clôté l'album et la fin du premier set, le groupe va faire un break de 20 minutes puis revenir...et tout cela en français s'il vous plaît !!!
Après ces 20 minutes qui paraissent comme interminables, David Gilmour revient une nouvelle fois seul sur scène...avec la "P.U.L.S.E Stratocaster", cette fameuse Fender Rouge équipée de micros EMG qui lui donne ce son si énorme !!! Il débute Shine on you Crazy Diamond sous mon regard abasourdi...il la joue comme pour sur le DVD "David Gilmour In Concert", mais avec une stratocaster à la place d'une acoustique...c'est très fort !!
Une merveilleuse version de ce chef d'oeuvre qu'est Shine On, enchaînée avec brio par "Wot's...uh the Deal ?"et son magnifique solo à la slide-guitar, puis viens Wearing the inside Out, où Richard Wright démontre à la foule qu'il a encore de très bons restes, même s'il désteste sa voix avec Pink Floyd, comme il aime à dire !!
Mais arrivent déjà les battements de coeur synonymes du début de Breathe, premier titre de The Dark Side of The Moon, avec Dave à la slide-guitar, comme pour la réunion du Live...avec Time et Breathe Reprise, ils consitueront les seuls titres repris de DSOTM. Bien choisie, Dominoes est la reprise de Syd Barret qui fait mouche auprès du public, qui accompagne volontiers en tapant des mains et en chantant ! Vient ensuite High Hopes, que David dédie à sa femme Polly Samson. Une très belle version assez proche de celle du double live P.U.L.S.E,et ce solo de slide !!! mmmmhhhh...
Ce à quoi nous ne nous attendions pas arriva pourtant !!! Dès que Richard Wright commença les premières notes au piano d'Echoes, je n'en croyais ni mes yeux ni mes oreilles, c'était tout simplement fabuleux !! Une très bonne prestation de ce morceau d'anthologie, 20 minutes de pure bonheur, jusqu'à la fin "bluesy" où tous les musiciens quittent la scène...pour revenir ensuite pour un rappel de deux morceaux, Wish you Were Here et Comfortably Numb, où le public est a présent debout et aux anges !!!
Un très très bon concert, on aimerait que ça dure plus lontemps mais 2h30 de show, c'est déjà bien C'était mon premier concert où je voyais un membre du Floyd et pas n'importe lequel, David Gilmour, qui a beaucoup inspiré le guitariste que je suis...Merci Dave, età bientôt j'espère !