ROGER WATERS ROME "CA IRA" CONCERT - DESIGNER MARK HOLTHUSEN INTERVIEWED, JANUARY 2006, with Brain Damage's Matt Johns.
Some of you were fortunate enough to be at Roger Waters' world premiere live performance of Ca Ira, in Rome in mid-November. Those that were, or those who read our

concert review

and looked at our

gallery of pictures

, will have been struck by the wonderful imagery that was projected onto the screen behind the black-clad orchestra.


The images were created by photographer Mark Holthusen, who was hired by Roger and Sony BMG Music a mere month before the show, to substitute traditional set design with projected photographic illustrations.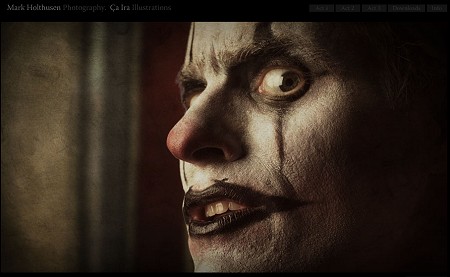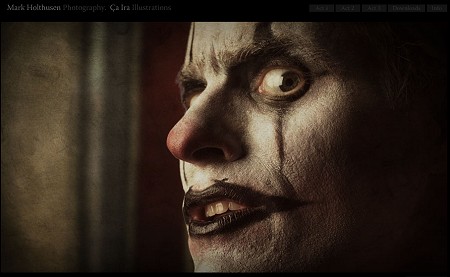 The screen featured over 120 images from the many taken by Mark. From concept to final production, the entire body of work was produced in a breath-taking 40 days! His striking and quite unique style brought the story to life at the concert, being the sole visual narration.


We caught up with Mark to find out more about his work on Ca Ira...

How did the collaboration between yourself and Roger come about?

That was Sony Music. I had send a portfolio to Sean Evans, the art director as Sony. He had it for quite a while. I finally called and asked if he still needed it, and he asked if he could keep in longer; that was the first time I thought something might be going on, but I had no clue Roger was involved.

How much of Roger's previous work were you familiar with? Did any of it influence your approach to the visuals?

It wasn't a direct influence. Of course his work is part of pop-culture, and I think you would have to live in a hole not to have seen or heard of The Wall. But it didn't really affect this job.

What was your original brief - and did it change as the project evolved?

Originally I was given a brief to shoot 15 main scenes, with a few details of things. I was given the original libretto only a few days before I flew to NY to meet with Roger.

I sat down and drew sketches of what I thought I would like to do and presented my ideas to everyone. I used those basic comps I drew up as my short list, and we were on such a short deadline I just used that as my short list.

However, as things moved forward, and we had further meetings with Roger, I think another 5 main shots were added but it still wasn't near the 240 we produced.

Once we cast everyone and began the shoot I took close to 8000 images of our actors. Then another digital artist and I began to put together our 20 shots. Eventually, Sean, Roger and I sat in an editing room and really hashed out what this was going to look like on screen.

That's when it started to get bigger. Sean had my library of images, Nadines's painting, and historical images. I think they realized quickly that the 20 photographs weren't enough!

What parts of Ca Ira did you find particularly inspiring?

Just the chance to do it really. Photographers aren't often asked to illustrate operas - at least not that I've heard of. I knew this would be a once in a lifetime opportunity. I really hoped I could do something no one had seen before.

What sort of direction did Roger give you? How "hands-on" was Roger during the development of the visuals?

Roger really let me go on this. In hindsight, I came up with some pretty out there ideas, but he really only directed me when I began to stray from the story. So, on the shoot, Roger was there so I could ask what was going on at any given point. No one knew this thing like Roger did; he was great to work with. You really knew you were working with someone who had been doing this for years, and he could really help and guide us through the process.

How easy was the music to conceptualize?

I found it pretty easy. I was told it was a Circus troupe performing the French revolution, which came from Nadines's painting; I had seen those and I know my images would have to go with her paintings, so I tried as best I could to shoot work matching hers. I did it mostly with my color pallet. Overall, it really wasn't that different from work I had been doing for myself of the last few years.

What were the different stages that lead to the final projections in Rome?

I started building all the sets in San Francisco, I put them in boxes and flew to NY to start the casting. We then shot all the talent.

At the end of each shoot I went back and continued to build the sets for the next day. I then began to put everything we had done together digitally and that took another 10 days.

Then it was off to Sony to do the final animations on everything. We did that until we left for Rome.

Did you ever feel it wouldn't get done in time?

Not in the beginning. I knew it would be a lot of work, and I had a few freak-outs, but there just wasn't time to think about things too much - I just put my head down and worked.

I've tried to figure it out and the closest I can get is that we worked about 400 hours in 39 days to make this happen.

When I got back from Rome, I slept for about two weeks!

Was there a particular image or scene that you were especially pleased with the execution of?

There are a few. I really like how the slave ship scene turned out and the execution scene as well. I have had such a tough time editing this work for portfolios; in a portfolio you want around 23 photos. Editing this down to that amount has been near impossible.

Was there anything you couldn't achieve, due to either time, monetary, or technical constraints?

I don't think so. In the grand scheme of things, there were always going to be paintings, Nadines' drawings and video. But personally for me, I would love to have had the time to do more; we never really got to tackle the papal eidetic scene and a few others.

After watching the piece in Rome there a few things that I would have changed, but you can always do that: I never think anything is done.

How did it feel to see your work come to fruition in Rome?

I watched both nights. The first night I was pretty nervous – too nervous to enjoy it. But I really enjoyed the second night. It was pretty amazing to see my work project like that. I hope I have the opportunity again to do it.

What was Roger's view of the finished body of work?

I don't want to answer for Roger; I think I would have heard if he was unhappy. I'll leave it at that.

Your images are incredibly striking, and very theatrical. How do you achieve the imaginative, and thought-provoking, images?

I've been working at this for nine years now; for me, this project seems to be the culmination of that work, the time I could really put all my ideas in practice.

Also, I always tried to make my images a story, so to be given a story, and to be able to tell a narrative not in just one image but in hundreds, was a dream come true.

What's next for you?

The response to this body of work has been nothing short of amazing. There a few things based on this body of work still to be done, but I shouldn't say too much more at this point. What I can say is that I would love to do something in a different direction; I'm thinking robot and bio technology, but we'll see.
---
Our thanks to Mark for sparing the time to answer our questions. To visit his website, either click on the pictures to the right, or visit www.MarkHolthusen.com/caira/. The images on the site can be viewed as a slideshow, with Roger's music playing. It gives a good impression of what the audience in Rome experienced back in November.