DAVID GILMOUR - 2006 TOUR POSTER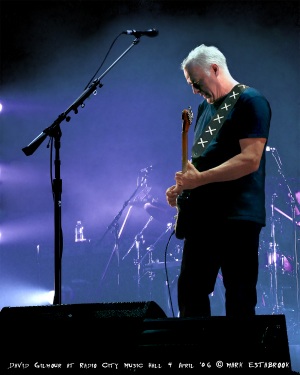 Our friend Mark Estabrook, who is a documentary director, took some wonderful shots at New York's Radio City Music Hall, in April. He has used his creative abilities to turn a selection into computer wallpapers (backgrounds) and many of you have already discovered these wonderful images which you can find elsewhere on this site.
To commemorate the successful resumption of the tour, following the stage issues in Venice, Italy, Mark has come up with another lovely image - this time, a poster that you can download and either print yourself, or take to a professional printing facility to get your own memento of his 2006 tour.
The suggested size to print it at, is approximately 16 inches x 20 inches, but obviously this is your choice. Within reason, it should scale up or down successfully to your preferences.
The image is shown to the right - David in action with a nice blue background, absorbed in the music... in the background, you can see the mighty Steve DiStanislao's drumkit, and just out of show, Guy Pratt and Phil Manzanera.
Either click on the poster to launch/download the poster, or alternatively use this link for the poster.
Our grateful thanks to Mark for his generosity. Remember that his images are all © 2006 Mark Estabrook, are used on this site with Mark's express permission, and no unauthorised use of any of these images is permitted.