Tonight, Roger Waters plays a historic concert in Israel, giving fans from the area the chance to hear him present a mix of solo material, and Pink Floyd's 1973 classic, Dark Side Of The Moon.

Yesterday, Waters visited the East Jerusalem village of Abu Dis, and called for an end to the on-going Israeli Occupation. He also visited part of the West Bank security fence and let his feelings be known.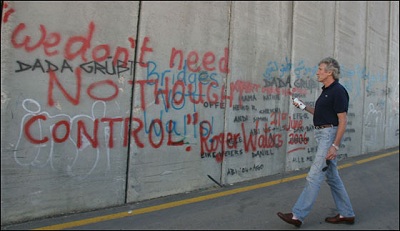 Roger Waters at Israeli wall
Waters moved today's concert from Hayarkon Park outside Tel Aviv after discussions with Palestinian artists, as well as Israeli refuseniks, who called on him to use the gig as a platform to build solidarity with those fighting the injustices of Israeli foreign policy.
He has taken part in a tour, with the UK group War on Want, of the occupied Palestinian territories, and seen for himself the hardship endured in towns like Bethlehem.

He helped launch War on Want's campaign against the Israeli Wall two years ago.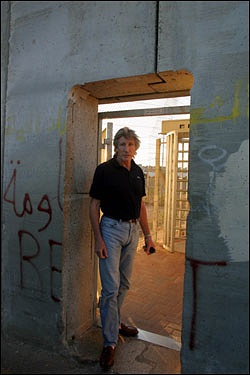 He said: "The peace village provides a great backdrop to this concert and performing a gig there, where Arabs and Jews live together in a peaceful community, symbolises my support for all those on both sides who reject extremism and violence in their quest for a just peace."
War on Want spokesperson Nick Dearden said: "We need musicians like Roger Waters taking this sort of principled stand. It is through statements and gestures like these that we can bring Palestine to the attention of the world, and ensure a better future for the region."
As part of his tour of the area, Waters visited Bethlehem yesterday and spray-painted the words 'We Don't Need No Thought Control' on a section of Israel's West Bank security fence (shown to the right).
He also wrote "tear down the wall" on the concrete panels of the barrier.
"It's a horrific edifice, this thing," Waters told reporters, standing beside it. "I've seen pictures of it, I've heard a lot about it but without being here you can't imagine how extraordinarily oppressive it is and how sad it is to see these people coming through these little holes," he added. "It's craziness."
"It may be a lot harder to get this one down, but eventually it must happen," said Waters comparing the West Bank security fence to the Berlin wall in Germany.
For more details of War On Wants work, visit www.waronwant.org.